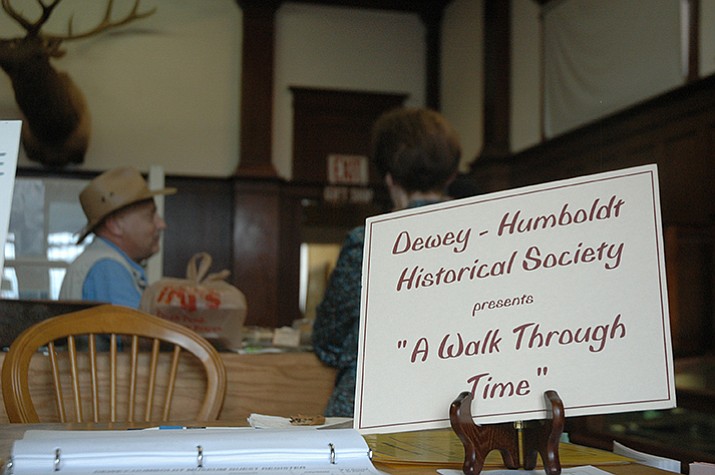 Originally Published: September 13, 2017 6:03 a.m.
The museum may have lost its home, but the Dewey-Humboldt Historical Society remains alive and well, its members said.
On Tuesday, Sept. 5, the town council honored its Volunteers of the Year, which included former president of DHHS, Carl Marsee. Later that day at its regular council meeting, the council approved an amendment that allows the Historical Society to continue to use the Second Street right-of-way next to its former museum location, the Old Bank Building, as a parking lot and exhibit area for the larger items and old mining equipment.
The new owner, Michael Fraley, requested clear access to the lower doors by contractors as they work to bring the building up to code. DHHS President David Nystrom said, as good neighbors, they would keep the sidewalk clear.
Councilmember Victoria Wendt said she was in agreement as long as museum members kept the area neat and trimmed. Council unanimously approved the amendment.
After much discussion, council members also unanimously agreed to continue its contract through June 30, 2018, with DHHS where the town allotted $700 per month for rent reimbursement. Council agreed that the money would be used to help with moving expenses, storage unit rental, and to pursue a new home for the museum. DHHS will provide the town with receipts before being reimbursed.
"The museum was only one portion of the Historical Society," Nystrom said. "The outdoor trips, Agua Fria Festival, and Pioneer Day at Humboldt Elementary School will continue."
Since the July 29 closure, members worked diligently to remove and safely pack up the museum's artifacts, and leave the building in good condition.
"It's been a tough six weeks," Nystrom said, adding that items on loan were returned to their owners, and the exhibits and artifacts are safe in storage.
Planning already is underway for the Agua Fria Festival scheduled for Oct. 7. Festivities include an Old West parade, live musical entertainment, best beard contest, Shoot Out by the Prescott Regulators, cowboy poetry, square dancing and a silent auction. Admission is $2 prior to the event, $3 day of event.
DHHS annual membership is $15 per individual or $25 per family. Activities include mine and petroglyphs tours, lectures and demonstrations, trail rides, poker run, cowboy poetry and storytelling events, craft fairs, and education such as the Walk Through Time series.
General membership meetings held the second Wednesday of every month at 5:30 pm at the Agua Fria Church. For more information, visit dhhsmuseum.org or call 972-742-6304.