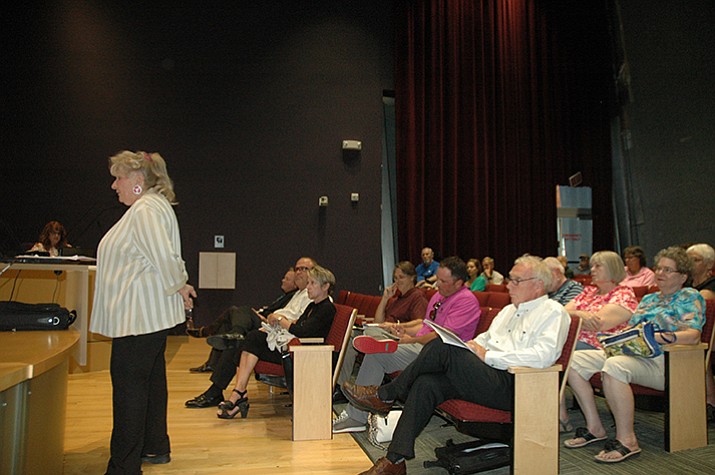 Originally Published: September 13, 2017 6:01 a.m.
The Prescott Valley town council will hear three agenda items at its 5:30 p.m. council meeting Thursday, Sept. 14, relating to a controversial rezoning request by owners of the Prescott Golf and Country Club in Dewey.
Two involve public hearings, one to consider amending the General Plan to allow medium-high density residential zoning on about four acres in the PGCC from current low-density residential zoning. The second is to consider a zoning map change for the same parcel. The third item allows the council to approve the resolution amending the General Plan.
By a 5-1 vote, the Planning and Zoning Commission recommended approval of the zoning request on Aug. 14.
Yavapai County previously approved the area for 75 townhome units in the early 1980s. The current owners propose relocating 40 of those to Parcel B, which leaves 35 in the original parcel, according to the memo to council prepared by Richard Parker, community development director.
Owners Jessica and Jeff Hall have worked together with the county and the town for the past three-and-a-half years on the rezoning request. Some residents in the PGCC have been active and vocal in their opposition, and have appeared at previous public hearings and meetings to state their beliefs that condos will lower their property values, increase traffic, and possibly exacerbate drainage issues.
In other business
Also on the council agenda is a public hearing on a rezoning request by Windsong Senior Living from C1-PAD to RS-PAD, commercial to residential, on 4.78 acres on Windsong about 900 feet south of Lakeshore Drive.
The council will consider transferring $10,150 from Animal Control Professional Services and $2,785 from Evidence Maintenance Agreements, in order for the Criminal Investigations Division to purchase computer software to bypass security and allow for data acquisition from mobile devices.
The council also will consider hiring the services of the Prescott Precinct Constable for legal process service, potentially saving the town between $7,000 and $26,277.
Follow Sue Tone on Twitter @ToneNotes. Reach her at stone@prescottaz.com or 928-445-3333, ext. 2043.