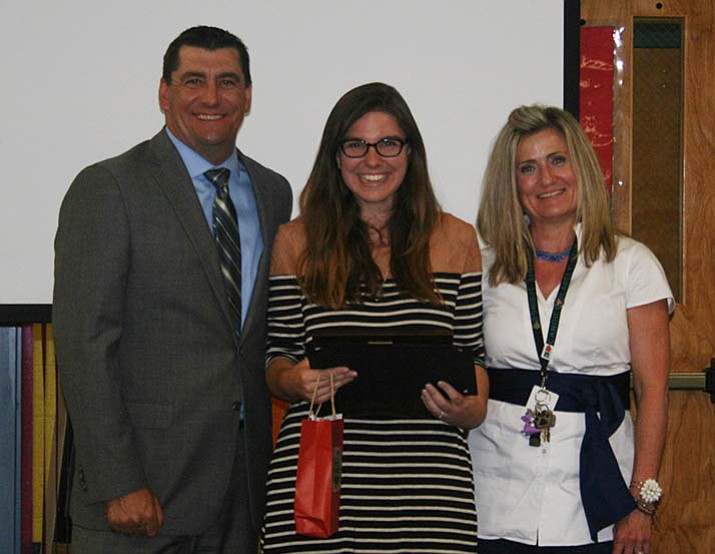 Originally Published: September 27, 2017 5:58 a.m.
Every month a teacher is chosen to honor as "HUSD VIP." They are recognized at the school board meeting at that particular school site (which changes each month). This month Coyote Springs chose kindergarten teacher Lindsey Brewer as its VIP. Following is the writeup that Principal Stump read to the board:
"Lindsey Brewer has been a valued employee of HUSD since January of 2016 when she was hired as a new teacher at Coyote Springs Elementary School just after completing her student teaching. Although Lindsey is still a novice teacher, she has set a standard for delivering instruction that both stimulate and engage her students.

"Lindsey's performance in the classroom is enhanced by her extensive knowledge, experience, and passion working with children. She maximizes efforts to establish a learning environment in which students respect each other. Lindsey has consistently demonstrated through patience, tolerance, and skill, the ability to relate to and effectively instruct all students.

"Her enthusiasm for teaching has generated a positive environment that promotes the love of learning.
"In addition to Lindsey's passion for teaching and learning in the classroom, she is a respected teacher in the school. Lindsey is a problem solver and always approaches problems form a proactive approach and from the perspective of a parent, teacher, and community member. Lindsey has taken on the role of Professional Learning Community Leader for the Kindergarten team. It is very unique to have such a new teacher take on this type of leadership role.
"However, Lindsey is without a doubt, a unique teacher and human who has the skill set and passion to be successful in this leadership role! Lindsey strives for excellence not only in everything she does but with everything that her students do. Lindsey's sense of professionalism is both motivational and refreshing."
Information provided by the Humboldt Unified School District.