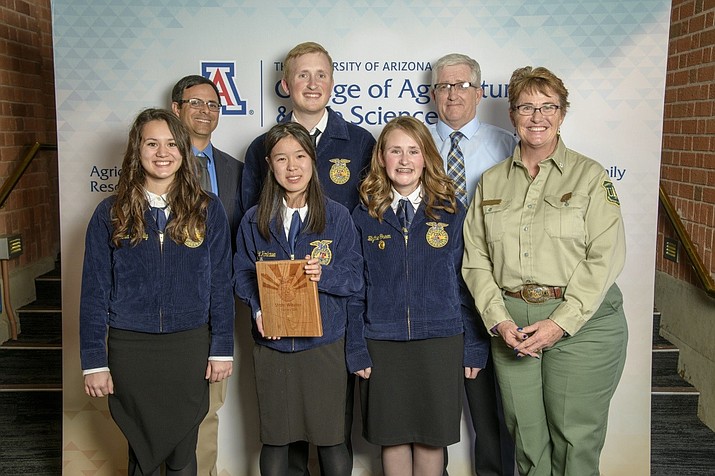 Originally Published: April 4, 2018 5:59 a.m.
AAEC Prescott Valley FFA students won two state FFA Career Development Event competitions March 2 at the University of Arizona campus.
The Forestry CDE team of Alyssa Connolly, Shinobi Horikawa, Nathan Green and Blythe Green were team members of the State Champion Team. Shinobi Horikawa was 2nd High Individual; Alyssa Connolly, 4th; Blythe Green, 5th; and Nathan Green was 7th high overall.
The Entomology Team were also State Champions. Team members who placed in the top 10 overall were Jackie Stooks, 1st High Individual; KLynn Busby, 5th; and Macy Bentley, 10th. Danielle Stephenson was also on the team.
The Horse Evaluation Team were Reserve Champion Team placing 2nd overall. Top 10 individual team members were: Zoe Quillen, 1st High Individual; Jenna Nelson, 3rd; and Tatum Warner, 4th. Bailey Sullivan was also on the team.
The Vet Science team placed 5th overall. Team members included Faithlyn Leach, 5th high individual. Other team members were Kacie Owens, Megan Banks and Savannah Davis.
The Meat Evaluation team placed 5th overall. Josiah Desjadon placed 5th high individual overall. Other team members were JMike Cleland, Victoria Moreno, and Shianne Berg.
The Nursery/Landscape team competed and placed 13th. Team members were Connor Merritt, Ericka Judge, and Jeremiah Kinsey.
This is the first AAEC Forestry team to win at the Arizona FFA State CDE competition. The Forestry team will compete in the National FFA Forestry CDE in Indianapolis, IN. in October. Special thanks goes to Noel Fletcher, Prescott National Forest Service for instructing students on this team.
The AAEC Prescott Valley Advisors are Mr. Robin Davis and Mr. Monte Soto who coach all teams.