Originally Published: April 11, 2018 5:52 a.m.
The Arizona Art Educators Association offers a contest for students to design a flag each year for Youth Art Month. Open to all Arizona youth, four Bradshaw Mountain High School art students had their work represented at the national AEA Convention in Seattle March 22-24.
MaKenna Farrell's Arizona flag design earned her the state's overall high school student prize of $1,000 in art supplies from Sargent Art Supplies. The junior is in Sandra Balsiger's Drawing and Painting class.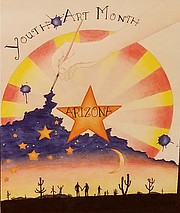 Her flag was displayed along with 49 other winners' flags at the national convention.
On March 28, Farrell's artwork, and that of other Bradshaw students, traveled to the Phoenix Art Museum where they were displayed at the Youth Art Month Exhibit and Reception.
Earning first place in the Arizona high school division, Elizabeth Losa, senior, received $100 worth of art supplies. Losa is a student in Helen Hyatt's Introduction to Art class.
Two other BMHS students, June Williams, senior, and Lucia Stoxen, freshman, earned an honorable mention and their artwork also was shown at the national convention representing Arizona.
Observed nationwide, Youth Art Month emphasizes the value of art education and encourages support for quality school art programs.
Through Farrell's winning artwork, Balsiger's classroom will receive $2,000 worth of art supplies. Losa's win brings $300 worth of supplies for Hyatt's classroom.