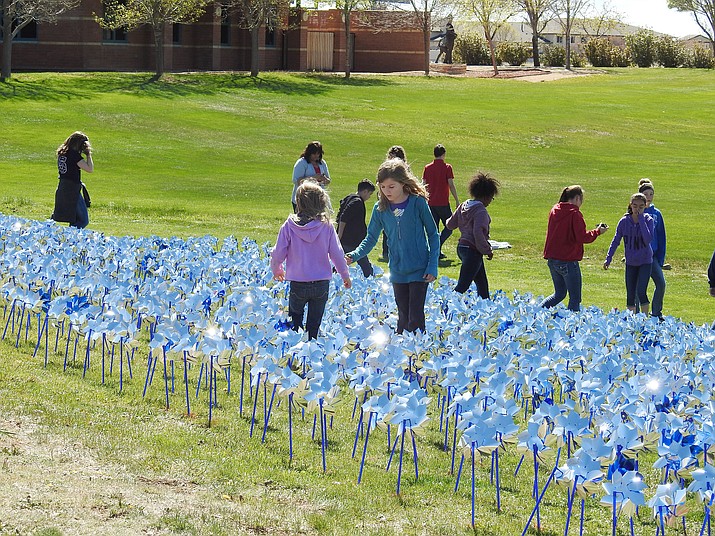 Originally Published: April 11, 2018 5:55 a.m.
Creative Aging class in May
In this final Creative Aging class series, three main skill sets will be explored: create your own recycled paper; print onto your paper; and finally complete your project with learning a very basic binding stitch to finish your own small book.
This a lot to take on in one series of classes, so the classes will focus on small simple projects to practice these three skills. This four-week class is being offered from 2 to 4 p.m. Thursdays, May 3, 10, 17 and 24.
Space is limited and registration is required. Please register online at pvlib.net, Creative Aging Classes. Classes are held in the Library's Children's Program Room of Prescott Valley Public Library, 7401 E. Civic Circle Drive. For more information, call 928-759-6189.
This LSTA project is supported by the Arizona State Library, Archives & Public Records, a division of the Secretary of State, with federal funds from the Institute of Museum and Library Services.
Seeking volunteer literacy and ESL tutors
The Prescott Valley Adult Literacy Group is seeking volunteer literacy and ESL tutors. If you would like to make a difference in the lives of adults who need help with reading and writing or learning to speak English as a second language, the group has just the opportunity for you.
The Adult Literacy Group provides the training and books, you provide the commitment to help the individual student you will be paired with. You will meet your student once per week for an hour to hour and a half at the Prescott or Prescott Valley Library, or other locations suited to you both.
The group has 55 tutors, who make a life-changing difference, one student at a time.
For information, or to sign up for the next training class, call and leave a message for Kathy Lewis at 928-759-3049. Their office is located at the Prescott Valley Library, 7401 Civic Circle in Prescott Valley.
D-H Library book sale is underway
The Dewey-Humboldt Library's book sale is continuing. During regular library hours, use the 2735 N. Corral Street entrance from 10 a.m. to 5 p.m. Tuesdays, Wednesdays and Fridays; from 1 to 7 p.m. Thursdays; and 10 a.m. to 2 p.m. Saturdays.
A great selection of gift-quality hardbacks is available for $1 and paperbacks for 25 cents, includes westerns, history, romance, travel, cooking, religion, sports, etc. Call 928-632-5049 for more information.
'Medicare 101' is topic of presentation
"Medicare 101 – Making the Right Choice" is a free Senior Connection Speakers Bureau presentation to occur from noon to 1 p.m. Thursday, April 12, at Prescott Valley Christian Church, 7655 E. Long Look Drive.
The presenter is Glenn Berkley, licensed state agent with Humana. Ever wonder what Medicare Parts A, B, C and D cover? Want to know if you're eligible? Come learn about your Medicare options and get your questions answered.
RSVPs appreciated to Debbie@SeniorConnection.us or 928-778-3747. For a complete schedule of upcoming presentations, visit www.SeniorConnection.us.
New Horizons benefit is April 21
New Horizons Disability Empowerment Center (NHDEC), 9400 E. Valley Road, Prescott Valley, is a disability empowerment campus providing members of our surrounding communities with multiple services. New Horizons has announced its upcoming Fundraiser Semi-Formal Benefit "Moving Forward Together," to enhance our programs and our new gymnasium facility for the community. This benefit is being held from 6 to 10 p.m. Saturday, April 21, at the St. Michaels Hotel, Crystal Ballroom. Come and enjoy cocktails, dinner, a silent auction with music and dancing performed by Little Larry Healey's (classic rock, R&B, blues). Tickets for this semi-formal benefit are $50 per person and can be bought online. RSVP by April 13. For further information, see our website: www.nhdec.org.
Spring landscaping is topic April 14
It's Spring! Are you thinking about new landscaping? Are you wondering what to plant and where the water will come from?
Landscape architect T. Barnabas Kane will present a free drought-tolerant landscaping workshop when the Citizens Water Advocacy Group meets from 10 a.m. to noon Saturday, April 14, at the Granite Peak Unitarian Universalist Congregation building, 882 Sunset Avenue, Prescott.
Using a residential case study, Kane will perform a site analysis to gain a full understanding of the conditions; run through all the potential water sources; prioritize water use; and discuss active and passive rainwater harvesting. From a supply-and-demand perspective, he will analyze the available water as it relates to the landscape and discuss how to approach net-zero water use.
Workshop participants will then actually design a landscape, specify plants for particular locations, and develop a working plant list. Bring your iPads, notepads and your love for the landscape.
At the workshop and/or at CWAG's April 21 Earth Day booth, register for a free rain barrel donated by C-A-L Ranch with a diverter donated by a CWAG member.
From 3 to 4:30 p.m. also on April 14, Kane will present "Understanding Rainwater Harvesting" as part of Librarypalooza at the Prescott Public Library.
For more information, call 928-445-4218, email info@cwagaz.org or visit www.cwagaz.org.
Brain and body health seminar is April 22
Healthy living tips for your brain and body will be offered in a seminar by the Alzheimer's Association, to be held from 2 to 3:30 p.m. Sunday, April 22, at Prescott's Temple B'rith Shalom, 2077 Brohner Way, Prescott.
Advice on keeping your mind and body healthy will include exercise, diet and nutrition, cognitive activity, social engagement, reminders on what you can do now and resources that are available to all.

The presenter will be Kathy Marzec. After retiring as a training and development manager, she decided to use those skills to give back to the community as a volunteer with Alzheimer's Association chapters in Connecticut and Prescott. Her mother passed away from Alzheimer's in 2016 and both her mother's and father's families have several members who have been victims of the disease.
The Alzheimer's Association is the leading voluntary health organization in Alzheimer's care, support research, and promotion of brain health. Its mission is to eliminate the disease.
Admission to the program on April 22 is free, but reservations must be made before April 18. Call 1-800- 272-3900 to reserve your seat.
Scholarship 'tea party' event is April 20
American Association of University Women (AAUW) Prescott invites the community to its second annual scholarship fundraiser, The Mad Hatter's Tea Party, an Art-Full Afternoon in the Yavapai College Richard Marcusen Garden, from 5 to 7 p.m. Friday, April 20.
Cost is $45 per person and includes music, tapas and tarts, wine tasting and non-alcoholic beverages. Tours of the sculptures and award-winning irises of the garden will be led by Yavapai College students and members of the Iris Society. Three local musical groups will be performing in various locations throughout the garden.
All proceeds from this event will go to AAUW scholarships for Yavapai College students.
Deadline for reservations is April 16. Tickets may be purchased online at https://www.yc.edu/gardenparty or by mailing a check to AAUW Prescott, P.O. Box 10881, Prescott, AZ 86304.
Coffee Chat with Jack today
Yavapai County Supervisor Jack R. Smith will serve as host for the monthly Coffee Chat at the Step One Coffee House, 6719 E. 2nd St., Prescott Valley.
Join Smith to learn about important local issues and initiatives facing Yavapai County. These informal gatherings are held in a casual friendly environment giving residents the opportunity to ask questions and engage in open-discussions about community issues of importance, such as county budget, taxes and upcoming events.
This is an open event and all are welcome to attend. The April Coffee Chat is scheduled from 8 to 9 a.m. today, April 11.
If you would like to enjoy a good cup of coffee and talk about issues, ask questions, discuss concerns, offer comments or suggestions, or just have a chance to meet Supervisor Smith, please take the time to come out to the Coffee Chats at Step One Coffee House.
For additional information, please contact Cynthia Gentle, Administrative Assistant, at 928-771-3209.
Rabies clinics last before fall
Two rabies clinics are coming up the weekend of April 14 and 15. The first will be hosted from 10 a.m. to 2 p.m. Saturday, April 14, at the Ming and More, 34430 S. Old black Canyon Highway, in Black Canyon City.

The second will be from 10 a.m. to 2 p.m. Sunday, April 15, at Holly's Market, 15970 S. Cordes Lakes Drive, in Cordes Lakes.
A Yavapai County Sheriff's Office (YCSO) Animal Control Officer will be at both clinics to sell dog licenses.
Dogs three months of age and older must be vaccinated for the rabies virus by a DVM and wear a current Yavapai County dog license, according to YCSO's website. Dog licenses are available annually and may be purchased from humane societies, sheriff's offices and low cost spay and neuter clinics.
For more information, call the animal control officer scheduled to be at the clinics at 928-771-3282.
New art classes for youth
Prescott Valley Parks and Recreation Department is proud to introduce one of its newest learning opportunities, Art Club! Local youth are invited to join classes led by local, professional artists who work in a variety of media. This is a chance to learn new techniques, improve your current art skills, learn about artists and movements and work collaboratively with other artists.
These classes are suitable for anyone ages 12 to 25; all levels of experience (beginner to advanced) are encouraged to join. Students with experience will be encouraged to help younger and less experienced artists. Students will have opportunities to show their work in public exhibits, join in critiques, work on community projects and learn how to frame, market and sell their work.
Lessons are approximately half an hour of instruction followed by one to two hours of time to complete projects. In addition to general instruction, teachers will provide one-on-one assistance to students as they work. Pre-registration is required and spaces are limited. Registration is available on our website — go to the Parks and Recreation page and click "Register Online" to see the class portfolio and sign up for classes, you must create a free account to sign up.
ERAU book drive to benefit Navajos
"Books collected in the quad-city area by the Embry-Riddle Aeronautical University national honor society of Phi Kappa Phi will be given to the Tuba City Library and other sites to be determined on the Navajo Reservation," said Anne Boetcher, chapter president.
Those wishing to donate books can take them to the Hazy Library, the Jack L. Hunt Student Center, or the STEM Center, where bins will be placed for donations.

These categories of books are especially wanted, book drive organizers said: anything dealing with Native American topics, how-to-do books, biographies, fiction for all ages, movies and DVDs.

The book drive runs through April 30.

Library to waive fines on overdue, lost items
Prescott Valley Public Library is celebrating National Library Week by giving you a free pass on your overdue or lost items. PVPL items only, no damaged items.
Return your items at the front desk with a staff person between April 9 to April 14 and all fines will be waived. No questions asked, just bring the items back. Call the Prescott Valley Public Library for further details at 928-759-3040.
Beginning Spanish class begins April 18
"Beginners Conversational Spanish" at Prescott Valley Public Library is starting April 18. Hola! Are you hoping to improve your Spanish speaking skills? Come to the Prescott Valley Public Library and meet other individuals who would like to practice their Spanish too. No registration is required.
Call 928-759-3040 with any questions. The class will meet from 3 to 4 p.m. the first and third Wednesdays of the month.
County plans Mayer cleanup for April
District 2 County Supervisor Tom Thurman and the Yavapai County Board of Supervisors, working with the Public Works Department, have announced a community cleanup in Mayer.
The cleanup will be at the Mayer Yard (next to the Mayer Transfer Station), 11130 S. Antelope Creek Road, one-quarter mile south of Mayer.
The cleanup will be open to Yavapai County residents at no charge from 8 a.m. to 4 p.m. April 12, 13, 14, and April 19, 20 and 21.
Accepted items include: household appliances, bagged trash, automotive batteries, unmounted tires, furniture, and yard trimmings.
Items that will not be accepted: loose trash, liquids, hazardous materials, cars, Ni Cad batteries and dead animals.
Wildfires are never out of season and now is the time to create defensible space around your home, the news release states. Cut away vegetation 5 to 30 feet from all structures. Remove all debris and dead vegetation from roofs, decks, and the ground around your home. Please remember to be cautious of sparks as you are cutting and trimming. All yard trimmings will be accepted at the cleanup.
This program is for residential use only; commercial loads will not be accepted.
For information, contact the Yavapai County Public Works Department at 928-771-3183.
Alumni launch scholarship fundraiser
The Prescott University of Arizona Alumni Association and the Northern Arizona University Prescott Alumni Chapter have announced a joint scholarship fundraising day trip for alumni and the general public.
Enjoy a luxurious bus trip to the Yavapai College Campus/Southwest Wine Center for an informative tour, a four-flight wine tasting and a gourmet luncheon from 9:30 a.m. to 3:30 p.m. Friday, April 13.

Meet at the circle at the Yavapai College Campus (flagpole), 1100 E Sheldon St., Prescott, at 9 a.m. Southwest Wine Center wines will be available for sale and a wine-related drawing will be held.
Approximately $40 of the $75 per person ticket, is a tax deductible contribution for scholarship purposes of the respective University's Prescott Alumni Chapter. First choice of the scholarships will be for Yavapai College students who will be transferring for the junior year at one of the two schools. Attendees will receive a receipt for the charitable donation.
Deadline to RSVP is Monday, April 9. To register by mail, send your check payable to your respective alumni association. Include a note with the name of the event and the names of the persons attending to: UofA Alumni Association, Attn: Rhonda Rugg, 1111 N. Cherry Ave., Tucson, AZ 85006, or NAU Alumni Association, Brianna R. Lorents '09, Alumni Chapter Coordinator, Office of Alumni Engagement, P.O. Box 6034, Flagstaff, AZ 86011.
For information, contact Madalyn Hemminghaus (UofA) at 602-827-2190, or Brianna Lorents (NAU) at 928-523-3811.
Fall prevention workshop ongoing
A "Matter of Balance" fall prevention workshop, sponsored by NACOG Area Agency on Aging, will be held at 1 p.m. Wednesdays, April 4 through May 23, at the Pioneer Home, 300 S. McCormick St., Prescott. For more information, contact Beth Brehio at 928-775-9993 ext. 4272 or bbrehio@nacog.org.
People Who Care meeting April 11
There will be a People Who Care volunteer and orientation meeting from 1:30 to 3:30 p.m. Wednesday, April 11, at the People Who Care office at Prescott United Methodist Church, 505 W. Gurley St.
People Who Care volunteers provide caring non-medical assistance for adults unable to drive because of age-related and/or physical limitations. This allows an individual to continue living in their own homes and remain independent as long as safely possible.
People Who Care is a community-based nonprofit with programs in Prescott, Prescott Valley, Dewey and Chino Valley. Volunteers help in the community where they and enrolled Neighbors live. The majority of our neighbors live alone.
People Who Care offers volunteer assistance with a one to one situation by helping with: transportation to healthcare/business appointments, grocery shopping, personal paperwork, visiting, caregiver relief, and more.
Reaching out and assisting our neighbors is a "feel good" opportunity for both the person volunteering and the one receiving the volunteer assistance. Call the Prescott office at 928-445-2480 to enroll.
Chair Yoga at library on 4th Fridays
Beginning in April, the Prescott Valley Public Library will be offering Chair Yoga from 11 a.m. to noon on the fourth Friday of the month.
Lori Wallach has been teaching yoga for over 14 years. Her love of helping individuals ease into aging is the driving force behind her yoga. She received her 200 teacher training in 2004 and finished her 300 training in 2016. Throughout her career she has taught all kinds of yoga, from power yoga to meditation. Now, she has settled into teaching modified yoga that meets the needs of the individual and chair yoga.
Chair yoga allows you to keep doing yoga regardless of your ability. The chair can also be used as a prop to help getting into the poses a little easier, not to mention there is no worry getting up and down from the floor. Yoga will help you keep and build your strength, flexibility and balance.
Civics classes start April 19
Beginning in April, the Prescott Valley Public Library, 7401 E. Civic Circle Drive, will host free civics classes for those applying for U.S. citizenship.
Beginning on April 19 the class will meet every Thursday from 6 to 7:30 p.m. in the library's second-floor PC Lab. Classes will end in 10 weeks on June 21. Registration is required. To register go to pvlib.net and look for civics classes. For more information, contact Jim Black at 928-759-6190.
May computer classes at the PV library
Prescott Valley Public Library will be offering two computer classes in May. Windows 10 meets from 3 to 5 p.m. three Mondays, May 14, 21 and 28, in the PC Lab. Exploring the Internet meets from 11 a.m. to 1 p.m. two Tuesdays, May 15 and 22, in the PC Lab.

Registration opens April 1. Space is limited and registration is required. Please register online at pvlib.net, Computer Classes. For more information, call 928-759-6187.
Cowboy Poets event is May 1 at library
The Arizona Cowboy Poets Gathering presents "You Just Can't See Him From the Road" at the Prescott Valley Public Library, 7401 E. Civic Circle Drive, from 6:30 to 7:30 p.m. Tuesday, May 1, in the Crystal Room.
Come celebrate the cowboy's place in Arizona culture and lore at this program for all ages. Poetry and music of the working cowboy will be performed by Dean Cook of Prescott Valley; Joe Konkel of Paulden; and Don Fernwalt of Mayer.
The Arizona Cowboy Poet Gathering is in its 35th year, bringing performers to the Prescott area from all over the country to preserve the life and culture of the working cowboy. This is a free event, no registration required. For more information, call 928-759-3040.
Book Club to discuss 'Small Great Things'
In April the club will be reading and discussing "Small Great Things," by Jodi Picoult. This novel — from a writer at the top of her game — tackles race, privilege, prejudice, justice, and compassion and doesn't offer easy answers.
This group meets at 10:30 a.m. each month on the third Thursday. The next meeting is April 19.
Afterthoughts explores 'Storied Life'
On April 24, the Prescott Valley Public Library Afterthoughts Book Club will be reading and discussing Lisa See's novel, "The Tea Girl of Hummingbird Lane."

Li-yan and her family align their lives around the seasons and the farming of tea. There is ritual and routine, as it has been for generations. Then one day a Jeep appears at the village gate — the first automobile any of them have seen — and a stranger arrives.
The club meets in the Glassford Hill Room of the Prescott Valley Public Library. For more information, call 928-759-6193.
Signups for town's parade underway
The Prescott Valley Early Bird Lions Club is accepting applications for the 40th annual Prescott Valley Days parade to be held on May 12. The parade begins at 9 a.m. and the route is on Florentine beginning at Yavapai and ending at the Prescott Valley Event Center parking lot.
In celebration of the Town of Prescott Valley's "ruby" anniversary the theme for the parade is "Wizard of Oz." Applications can be obtained from the Prescott Valley Chamber of Commerce's website at www.pvchamber.org or call Gloria at the Chamber at 928-772-8857.
Meditation for Beginners April 19
Meditation for Beginners will be held at the Prescott Valley Public Library from 1 to 2:30 p.m. Thursday, April 19, in the Glassford Hill Room, presented by Dr. Ritu Gothwal of Yavapai Regional Medical Center. Registration is required at yrmc.evenbrite.com or call 928-708-4636.
Participants in this 90-minute session will learn Isha Kriya, a simple, 12- to 18-minute practice for meditating and attaining health, clarity and joy. Isha Kriya does not require any previous experience with meditation and can be done sitting in a chair.
Rainwater harvesting testing available
If you live in the Dewey-Humboldt or Mayer area (within 10 miles of the Iron King Mine), and harvest rainwater for garden use, the University of Arizona invites you to participate in Project Harvest.

Project Harvest participants will collect harvested water, soil and vegetable samples to determine the concentration (or not) of potential contaminants.

There is no cost to participate, and all supplies and training is provided.
If you are interested in more information, visit projectharvest.arizona.edu. You may sign up on the website to receive additional information, or contact the local Community Health Educator directly at margaretdewey@email.arizona.edu.

Free tax-preparation service available
Volunteer Income Tax Assistance is available from 9 a.m. to 4 p.m. Mondays and Tuesdays at the Prescott Valley Library's Crystal Room, third floor, 7401 E. Civic Circle, as well as from 5 to 8 p.m. Wednesdays, and from 9 a.m. to 3 p.m. Saturdays.
The assistance is available at Catholic Charities, 434 W. Gurley St. Appointments are recommended. For more information, call (Prescott Valley) 928-460-9895 or (Prescott) 928-778-2531.