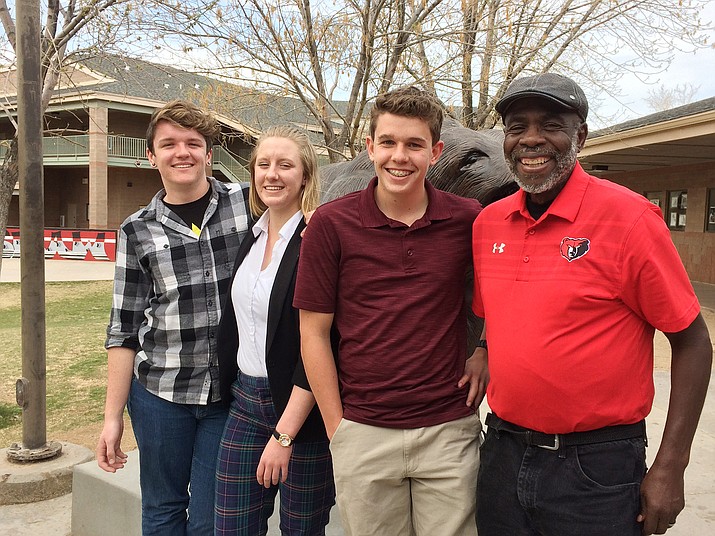 Originally Published: April 11, 2018 5:50 a.m.
Robert Shegog, substitute teacher for the Humboldt Unified School District, noticed the high school offered no basic speech classes. The only way students got practice speaking before a group of people was if they joined the drama club — some can't make that time commitment — or if a teacher required an oral presentation, he said.
"I complained for a while and finally said, 'If no one's going to do something, I will,'" Shegog said this past week, April 5, at Bradshaw Mountain High School.
He offered a contest with $100 as first-place prize, and found five judges from Prescott and Prescott Valley Toastmasters clubs. Following a March 28 workshop, students had a short amount of time to prepare for the contest. Nevertheless, judge Margie Crider said the students' "strong, clear voices" impressed her.
Nine contestants signed up for the contest and five appeared to speak on this topic: Pick one person in your life for whom you admire their positive leadership skills, and write about the traits that make them special and how they have influenced you in some way. They had to speak for 3.5 to 5 minutes.
The time requirement disqualified one student, sophomore Kaylin Harris, for coming up short with less than 3.5 minutes.
Judges looked for minimal use of "filler words" such as "like" and "um," gestures, clear voice, passion, eye contact and if the talk made sense. They destroyed the score sheets, but handed students their comments afterward.
Elissa Rogge, with Bradshaw Connection, the school's parent-teacher organization, called Shegog a "treasure."
"He's a wonderful man with a heart of gold. He looks out for the kids' best interest 110 percent," Rogge said.
Shegog retired early at age 55 after 30 years teaching in Michigan, Los Angeles and Phoenix. He took a year off to care for his mother, then started subbing four to five days with Humboldt, he said.
"I never had Monday morning blues," he said, with a laugh. "I like the variety of subbing in different classrooms."
BMHS Principal Kort Miner acknowledged the lack of speech opportunities at the school. He said polls indicate the only thing that scares people more than death is public speaking.
"A lot of our teachers ask that students do presentations, projects, etc., in class, but a speech class would focus on audience and purpose, as well as a lot of time to practice this skill. Without having a speech course at BMHS, the Connection Speech Contest is one way to support our students to overcome this fear and, in the end, become better public speakers," Miner said.
Shegog put up half the prize money and BMHS Connection donated the other half. The first place winner received $100, second place $75, and third place $50. All winners also received $10 movie gift cards.
Judge Mark Murphy said he sees a need for schools to have a speech club or class. His comment to the students was to try to get away from reading from their notes.
Judge David Eagle agreed. "The problem with reading from notes is that most people don't do it well," he said, adding that one student held her notes down in front of her so far than her head was down throughout the talk. Another student, Leigha Campbell, used her free hand to gesture, something Eagle said showed potential.
Judge Ty Freedman pointed out Aaron Bowman's use of keeping the identity of the person in his speech unknown until the end. He also liked that Bowman had eye contact and showed emotion when speaking about his hero, his father.
Judges awarded first place to Aaron Bowman, junior; second place to Leigha Campbell, junior; and third place to Kevin Moore, senior.
"Getting up in front of a group and speaking intelligently is important," Shegog told the students after the winners were announced. "I'm proud of you. You had the courage to do this, and you learned something you can use for the rest of your life."