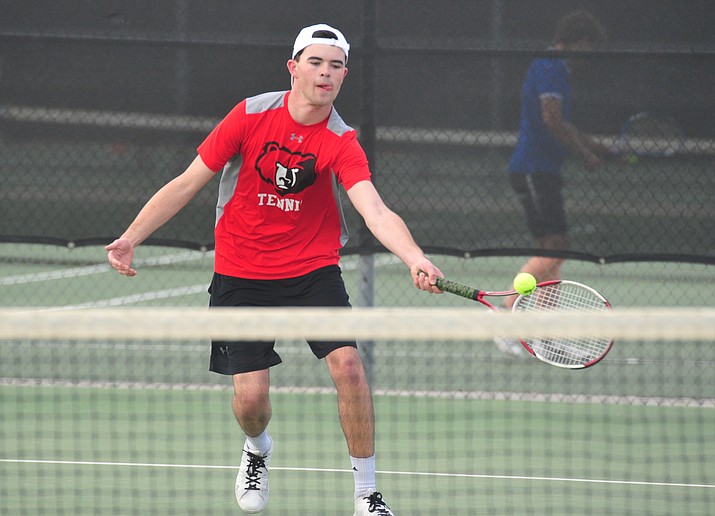 Originally Published: April 13, 2018 6 a.m.
PRESCOTT VALLEY — On a wind-whipped Thursday afternoon at home, Bradshaw Mountain's boys' tennis team pulled off a major upset of previously undefeated and Division II No. 2-ranked Cactus Shadows, registering a 7-2 victory that should give the Bears the Section II title.
With a 12-1 overall record and a 6-1 section mark, D-II No. 14 Bradshaw Mountain has concluded section play. The Bears own the tiebreaker with Cactus Shadows, which dropped to 12-1, 5-1 with one section match remaining at 3:30 p.m. Monday, April 16, versus Deer Valley (2-10, 1-4) in Cave Creek.
Notre Dame Prep, which handed the Bears their only section setback March 28 in Prescott Valley, finished 13-2, 5-1.
"I am so proud of the team," said Bradshaw Mountain coach Tim McClintock, whose Bears faced Cactus Shadows on their outdoor campus courts with winds gusting upwards of 20-25 mph. "Our experience of playing in the wind made the difference, as did playing at home."
Bradshaw Mountain has now won five consecutive team matches.
In singles on Thursday, senior team No. 1 Dawson Turner and team No. 2 Luke Poteat suffered 6-1, 6-1 and 6-2, 6-2 losses, respectively. However, Bears senior No. 3 Tyler Cacia (6-1, 6-1), junior No. 4 Ed Ramos (6-1, 6-1), No. 5 David Medevielle (6-3, 7-6) and freshman No. 6 Colin Streeter (6-0, 6-0) all won their matches.
Bradshaw Mountain swept the doubles matches, as the team No. 1 pairing of Turner and Cacia, team No. 2 duo of Poteat and Ramos, and team No. 3 tandem of Streeter and Medevielle each posted an 8-6 victory.
"This prepares us for the individual and doubles state tournament," McClintock added.
UP NEXT
The Bears conclude their regular season at 3:30 p.m. Tuesday, April 17, at Tempe (5-8 overall) in a non-section match.
McClintock said Ramos will compete in the D-II State Championships' singles tournament, which begins April 20 at Scottsdale Ranch Park and Tennis Center. Turner and Cacia will play in the state doubles tournament, which also starts April 20. The state team tournament opens April 25, with the Top 16 teams in D-II participating.
Doug Cook is a sports reporter for The Daily Courier. Follow him on Twitter at @dougout_dc. Email him at dcook@prescottaz.com or call 928-445-3333, ext. 2039.