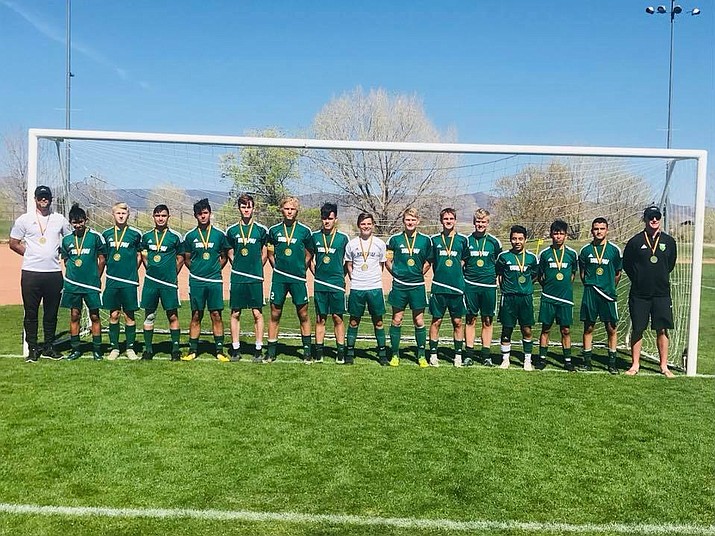 Originally Published: April 19, 2018 6:04 a.m.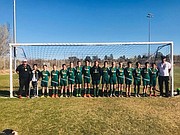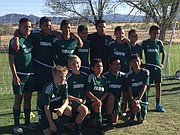 Three teams for the Yavapai Soccer Club took first place at the annual Yavapai Cup Tournament April 7 and 8 in Prescott. The 2002 boys, coached by Robert Gittins, took first place in the gold bracket. The team will play next at the Arizona President's Cup on Friday through Sunday, April 20 to 22, in Phoenix. The 2004 boys, coached by Gittins, took first in the silver bracket and the 2005 boys team, coached by Juan Carlos Montoya, took first in the silver bracket. The 2005 boys team currently possesses a 14-5-4 record.
Freestyle, relay team for Prescott Masters sets state records at Championships
The 65-plus men's 400-yard freestyle and medley relay team for the Prescott Masters Swim Team set two state records at the Arizona State Championships on April 6, 7 and 8 in Tucson. Bob Huck, Marshall Kane, Mark Modjeska and Gary Baldwin set a record in the 400 medley relay with a 4:59.89 time, and were first in the 400 freestyle relay with a 4:11.19 time. Prescott's Jayla Thirtyacre took the high-point award for ages 18 to 24, while Modjeska won the high point award for ages 65 to 69. Other notables include first place finishes by John Mull in the 100 freestyle, Marianne Erickson in the 100 butterfly, 50 breaststroke and 200 individual medley and Gretchen Schmock in the 50 and 100 freestyle, and 50 breaststroke. Overall, the Prescott Masters finished third at state out of 22 teams in overall points.
Boursaw wins ACCAC Player of the Week for 2nd time this season, 6th in career
Yavapai College softball player Jaydee Boursaw was named ACCAC Division I Player of the Week on Monday, making it the second time this season, and sixth in her career, she has received the award. The Roughriders went 5-1 last week with doubleheader sweeps of Arizona Western College and Gateway Community College, and a split with No. 7-ranked Phoenix College. Yavapai is currently No. 20 in the country. Boursaw was 9 for 19 with four home runs, four doubles and 13 RBIs last week. The Vallejo, California, native leads the ACCAC in home runs (25) and RBIs (78), and is second in both categories nationally. She is Yavapai's all-time leader in both categories. The Roughriders are set to take on Scottsdale Community College in a doubleheader Saturday, April 21, in Scottsdale. First pitch for game one is set for noon.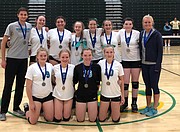 Northern Ace Volleyball takes 2nd place at Vulture Peak tourney
The Northern Ace Volleyball Academy's 14-Black team took second place at the Vulture Peak Tournament on Sunday, April 15, in Prescott. Members of the team include Anna Daines, Lexi Wasil, Megan Cage, Addi Baron, Hannah West, Nicole Shaver, Abbey Le Forte, Ella Bleu Edwards, Tristen Bangs and Ava Andrews. And they were coached by Taylor Ayers and Becca Long.
40th annual YMCA Whiskey Row Marathon set for May 5
The 40th annual YMCA Whiskey Row Marathon is scheduled for Saturday, May 5, in Prescott. The marathon hosts several runs, including a 2-mile Fun Run/Walk, 10K, half and full marathon. The first and last 5 miles are run along open, paved roads, while the remainder of the course cuts through Ponderosa Pine-covered Prescott National Forest on dirt roads. On Friday, May 4, participants can pick up their packets at the YMCA from 3 to 8 p.m. On the day of the race, runners can pick up the packet at 5 a.m. at Matt's Saloon. The full marathon's early start is at 5 a.m., with the regular start set for 6 a.m. The half marathon begins at 7 a.m., 10K at 7:20 a.m. and 2-mile Fun Run/Walk is at 7:15 a.m. For more information about become a runner, a race volunteer for water stations and registration, finish line and course clean up, call Laura Winniford at 928-445-7221, ext. 217, or email laura@prescottymca.org.
Yavapai baseball to hold prospect camp May 13
The Yavapai College Baseball Prospect Camp is scheduled for Sunday, May 13, at Roughrider Park in Prescott. The annual prospect camp's purpose is to promote exposure to Yavapai College as well as all other ACCAC baseball programs. Each junior college from the state of Arizona will be invited to recruit and evaluate talent. This year the two new NAIA baseball programs in Arizona will also be invited to attend the event. The prospect camp is also geared toward sophomores and juniors wishing to get a head start on the recruiting process. Yavapai College currently has players on its roster from this camp. The camp will consist of two sessions; bullpens in the morning and position player workouts in the afternoon. Registration for pitchers and catchers will be at 9:15 a.m. and bullpens will begin at approximately 10 a.m. Registration for position players will begin at noon and the workouts will begin at 1 p.m. The fee for the camp is $50 and for those who sign up on the day of there will be an additional $10 fee for late registration. For more information, contact Yavapai assistant baseball coach Kyle Wise at 928-776-2292, or email kyle.wise@yc.edu.
Embry-Riddle summer basketball camp set for June 4-7
The Embry-Riddle men's basketball team invites all local players to participate in its annual Embry-Riddle Men's Summer Basketball Camp on Monday through Thursday, June 4 to 7, on the university's Prescott campus. Players will receive coaching from the Eagles' staff on a variety of basketball skills during the four-day camp. Ages 7-11 are from 9 to 11 a.m. and ages 12-16 are 12:30 to 2:30 p.m. on each day. Cost is $90 per player. For more information, contact Eric Fundalewicz by email at fundalee@erau.edu or Doug Beilfuss at beilfusd@erau.edu.
Harlem Globetrotters coming to Phoenix Aug. 11
The Harlem Globetrotters will bring their world-famous basketball show to Arizona this summer as Talking Stick Resort Arena will host the team from 1 to 6 p.m. Saturday, Aug. 11, in Phoenix. The Harlem Globetrotters have entertained basketball fans for more than 90 years. The roster this year features Big Easy Lofton, Hi-Lite Bruton, Ant Atkinson and Hammer Harrison. Also included is the club's largest female roster in team history as TNT Lister, Hoops Green and Torch George are scheduled to make an appearance. Tickets go on sale to the public at 10 a.m. Tuesday, April 24, at harlemglobetrotters.com. Fans can purchase their seats at the Talking Stick Resort Arena box office, or by phone at 800-745-3000.