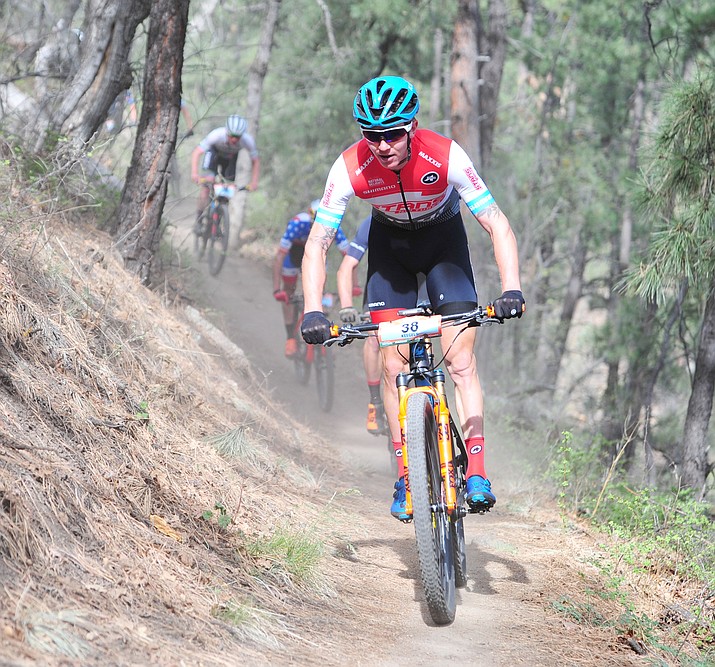 Photo by Les Stukenberg.

Originally Published: April 29, 2018 10 p.m.
Photo Gallery
Whiskey Off Road Pro Race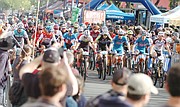 Edges 2-time champ Howard Grotts, who takes runner-up honors
PRESCOTT — In pro endurance mountain bike racing, it doesn't get much closer, or any more competitive, than what transpired in the 2018 Whiskey Off-Road 50 Proof men's race Sunday.
Keegan Swenson of Park City, Utah, and the Stan's NoTubes/Pivot Cycles team, won the Off-Road in 2 hours, 59 minutes and 16 seconds on this year's slightly shorter, faster course, edging previous two-time champion Howard Grotts by less than a second in a sprint finish.
Grotts, who's from Colorado and trains in California, will go down as one of the best ever to race at the Off-Road, making Swenson's incredible win even sweeter. In 2017, Swenson finished the Whiskey 50 in 11th. With defending Whiskey 50 pro champion and Grotts' Specialized teammate, Sam Gaze, racing in Europe this week, Swenson was motivated for the challenge on a sunny, windy, dry day.
The 50-mile race, which begins and ends on Whiskey Row, starts out on paved streets downtown before transitioning into steep climbs and descents on portions of Prescott National Forest west of South Highway 89.
Swenson said he "couldn't hang" with Grotts, who's well-known for his climbing prowess, when the latter made an early move up and out of Skull Valley. In other words, Swenson did all he could do to avoid tiring too quickly to prepare for the stretch run.
"I was hoping I could keep him just within a minute or so [ahead of me] going over the top, and just did what I could on the descent," Swenson added. "He's on a full suspension [bike], and he can go downhill pretty quick. I definitely went pretty fast [to catch up]."
Toward the end of the race, Swenson said he wasn't expecting a sprint finish. Swenson trained hard for the Whiskey 50 this year, purposely completing long rides to brace for the 50-miler both mentally and physically. He won this race because of his strength at descending quickly from higher to lower elevations.
Grotts won the Whiskey Off-Road in 2015 and 2016, and he's been the runner-up in each of the past two years. Grotts finished first in Friday's criterium race over, you guessed it, second-place Swenson.
Swenson, 23, and an aspiring Olympian, and Grotts, 25, of Team USA, are rivals who have faced each other in races for several years now.
"We used to race each other in the Colorado State Series, so it's cool to have these friendly rivalries as we mature and grow up," Grotts said.
On Sunday, Swenson didn't gain an edge on Grotts until the descent back into town.
"He's the man to beat on this course," Swenson said of Grotts at the Whiskey. "He's the fastest climber, arguably, and I just did what I could to try and keep him within sight on the climb. I lost him for a little and tried to bring him back on the descent."
Added Grotts about Swenson, "He came onto my wheel just maybe a mile before the road on Thumb Butte. So, really, close to the end. I should've raced it a little more on the descent, and then we could've both rolled out on the road together, or not together, and that would've been better. It was an exciting race."
Rounding out the Top 5 finishers were Nicola Rohrbach of Switzerland (third, 2:59:37), past two-time Whiskey champ Geoff Kabush of Canada (fourth, 3:00:56) and Russell Finsterwald of Colorado Springs, Colorado (fifth, 3:01:53).
"I'm happy with third, this being the first time for me [here]," said Rohrbach, 32, a World Cup racer. "I'll have one week more in the U.S., and then I'll go back to Europe."
Locally, Prescott's Brian Matter (18th, 3:09:38) and Paul Fabian (23rd, 3:09:47) posted respectable finishes, as did Prescott's Travis Woodruff (57th, 3:28:48), among a field of some 90 riders.
Doug Cook is a sports reporter for The Daily Courier. Follow him on Twitter at @dougout_dc. Email him at dcook@prescottaz.com or call 928-445-3333, ext. 2039.