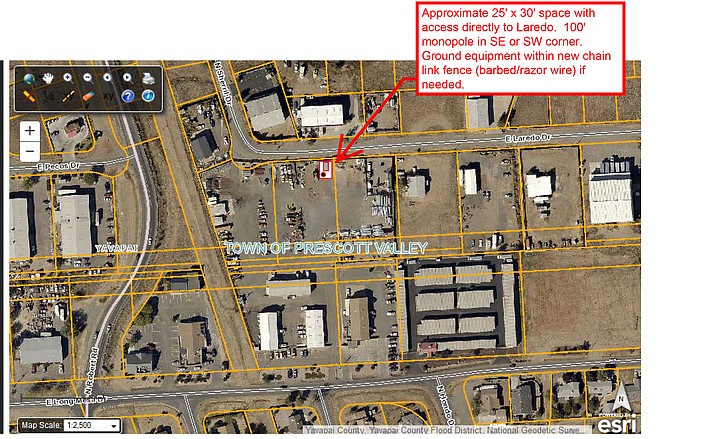 Originally Published: February 7, 2018 6 a.m.
Council members are considering granting a sublease to Allynx Corporation, a consulting company, so it can place a Verizon telecommunications facility in the Prescott Valley Public Works yard on Laredo Drive, at the northern end of town.
Thursday's council meeting begins at 5:30 p.m. Thursday, Feb. 8, in the Prescott Valley Public Library auditorium.
In the proposal for the telecommunications facility, Verizon would pay Allynx $1,850 per month for the first five-year term, with six possible five-year renewals. Each five years, the rent will increase by 15 percent.
In turn, Allynx will pay the town $1,495 per month in rent. Verizon also has agreed to pay about $10,000 to install street lighting adjacent to the yard. Verizon and Allynx would be responsible for maintenance of the property.
In 1999, a previous council approved rezoning to a public-land designation all government lands within town limits. The change allowed access for wireless facilities. The areas affected included property owned by Humboldt Unified School District, Central Yavapai Fire District, the town, and the former Shamrock Water Company, now part of the town.
Also on the agenda this week is a possible mid-year compensation adjustment, a 2 percent increase to CH2M HILL, which operates and maintains the town's water, wastewater and reclaimed water systems and recharge facility. The adjustment would be an increase of $6,052.
Neil Wadsworth, utilities director for the town, explained in his request to council that at the beginning of this fiscal year, in July 2017, the contract amendment included no increase in compensation for CH2M HILL.
"This was in response to CH2M having incorrectly reported on sampling at one of the well sites, causing the water system to be in violation of state water quality standards for arsenic reporting," he stated, adding that a provision was included to consider a mid-year compensation adjustment.
CH2M followed up on all requirements of the Arizona Department of Environmental Quality, which returned the town to its previous reduced-monitoring status.
Council members also will hear from the Chamber of Commerce and Management Services Director Bill Kauppi and will consider transferring $11,430 from the Police Patrol operating budget to Police Administration capital budget for upgrades to radio equipment and tower to take care of radio reception and transmission issues.
The council meets at 7501 E. Civic Circle, Prescott Valley.