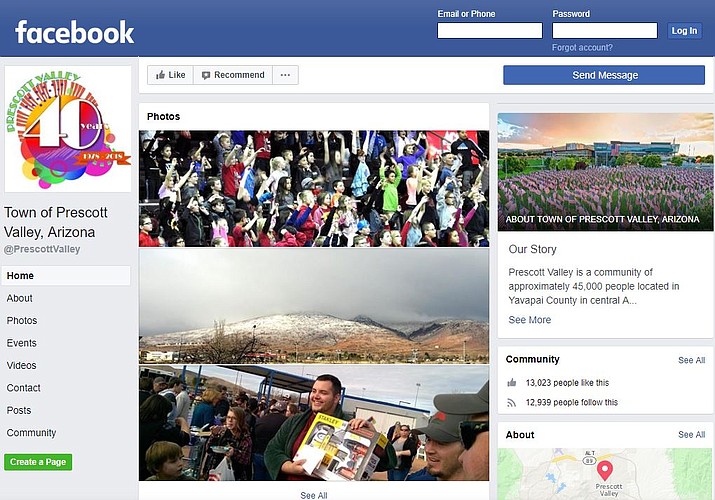 Originally Published: February 7, 2018 6:01 a.m.
How does a government entity post and monitor on its social media sites all the information dealing with meetings, activities and current issues?
Town of Prescott Valley staff drew up guidelines to establish the use of social media and content, which the town's council approved as Policy No. 1-10, Resolution No. 2032, at its Jan. 25 meeting. The policy applies to all town employees, volunteers, service providers, contractors and consultants doing business on behalf of the town.
Town Attorney Ivan Legler said the town has been using social media for a while without a formal policy and is trying to stay on top of and respond to changes in technology.
The town has a Facebook site, as does the town's police department and library. The Parks Department has an Instagram site, and the town and police each have Twitter accounts.
"All these are used to disseminate news, public activities, safety and other announcements. It is especially good for use in an emergency," Legler said.
The town's Facebook account has 13,000 followers, making it a fairly significant way to get information out, he added. Eventually, the town contracted with Archives Social in anticipation of receiving public- records requests related to the sites.
The new policy specifies what staff already was doing, Legler said. The policy includes moderating the comments "to make sure we are following the correct balance in relation to free speech," he said.
"At times, you've got to take down certain comments," he said. "Other times you leave them up regardless of content, as long as they are not profane, off topic, spam or threatening. There is a profanity filter already in place," Legler told council members.
The policy outlines who can post on the sites, the expectations of employee conduct, and mandates that upper management approve what is on the site.
According to Lora Lee Nye, the town's vice mayor, "A primary purpose is to protect the integrity of the information posted on the social media sites. That, to me, is one of the most critical pieces," she said.
The policy states that the town manager, or designee, must review and approve all content. It is subject to public records law and the town's public records policies.
Any posts on the town's social media sites — whether text, photos or videos — can be used by the town. Even if posts are deleted later, they are part of the town's public records and must meet the town's document-retention requirements.
"It's always, what I call, kind of a sticky issue anyway, what we include and what we don't," said council member Michael Whiting. "We have to be careful how things are presented and are said. We've been very rigorous in terms with how we operated, and we appreciate the guidance of our legal counsel. I think we've done a good job."
Legler said staff had researched other community websites. Council unanimously approved the policy.