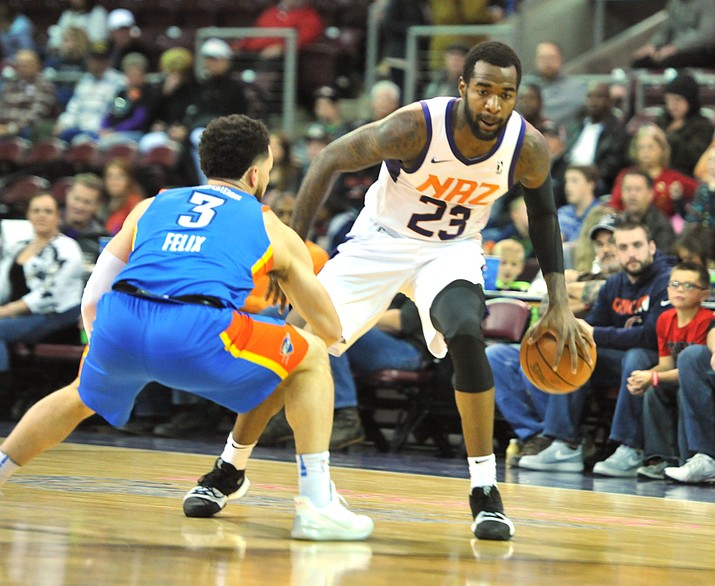 Originally Published: January 4, 2018 10:30 p.m.
EDITOR'S NOTE: Northern Arizona Suns forward Mike Young was waived Wednesday by the Washington Wizards, giving NBA teams 48 hours to sign him. This article was completed prior to his release, but since there is a chance Young will sign into the NBA Gatorade League if he's not picked up by an NBA club, the Suns have first rights to bring him back to Prescott Valley.
Waived forward could still return to Prescott Valley
Like so many others before him, it would've been easy for former Northern Arizona Suns power forward Mike Young to fall through society's cracks.
Young, 23, grew up in Duquesne, Pennsylvania, a tiny borough 12 miles south of Pittsburgh, as one of his family's 12 children. He didn't come from wealth, none of his siblings were athletes, and he had no solid role models. Mike's father, who shares his name, died while Mike was still enrolled at St. Benedict's Prep in Newark, New Jersey, from 2009-13.
And yet there was always something burning inside Young – the desire to use his natural athletic gifts to their full potential. As a prep player, Young helped guide St. Benedict's boys' basketball team to a National High School Invitational championship game appearance and the New Jersey Prep High School title. He moved on to earn third team All-ACC honors twice (2016, 2017) at the University of Pittsburgh.
"I was always tall and played sports. I'm the biggest athlete from my area [in Duquesne]. There was no LeBron [James] or Kobe [Bryant]," Young said in a phone interview in December. "I've been a role model for my area, especially when I went back for college. But I could be a role model for any area [in the future].
"I wasn't expected to be a pro. I was expected to be nothing but a four-year college player, and that's it. Hopefully, any kid can look at my story and find some type of motivation, or anything that will help them be better in life."
Despite not being drafted into the NBA this past summer, the 6-foot-9, 235-pound Young became a two-way player for the Northern Arizona Suns and the Washington Wizards, who do not field an NBA Gatorade League club, on Nov. 13.
"To be a part of an NBA organization, given a chance and an opportunity, I'm grateful for that," Young said before the Wizards waived him. "It's been a good experience. It's helped me get a lot better as far as leaving one team and coming to a new team, getting up to speed as fast as possible with the plays, and learning from my teammates and just kind of getting acclimated with everything. Being in the G League – I just want to get better, control what I can control, be a good teammate, work on my game and continue to grow."
GROWING PAINS
Young had been healing from a left hamstring injury, which he suffered during a Suns practice Dec. 7. A short holiday break gave him time to rest and receive treatment, though. He played in 19 games (14 starts) for Northern Arizona (8-14), averaging 11.6 points, 6.1 rebounds and 2.1 assists.
The Suns, who are currently last in the Pacific Division, visit the Reno Bighorns (11-10), winners of six straight, tonight in Nevada with a 10-player roster.
First-year Northern Arizona coach Cody Toppert said there's a simple explanation for the Suns' rough start to the 2017-18 season.
"We've had injuries, we've had ailments, we've had sicknesses, we've had back spasms, we've had hamstrings," Toppert said last week. "It's been a number of things. We've been down two or three starters the last three or four games. We don't even know who's going to be able to play in the next game."
For example, starting shooting guard Xavier Silas, who had back problems and missed the Suns' last three contests, returned to the starting lineup in Tuesday's 113-108 win over the Rio Grande Valley Vipers. The victory snapped a five-game slide.
However, there's been plenty of roster shuffling, too. The Suns traded star point guard Askia Booker and forward Anthony Bennett within the past week, and standout forward Derrick Jones Jr. has signed a two-way contract with the Miami Heat, altering Northern Arizona's complexion.
With Booker, Bennett and Jones Jr. gone, Young had been asked by Suns' coaches to pick up some of the scoring slack, and he had performed admirably.
"He's had some very nice games, and the quality of your play is not always determined by whatever points, or this or that," Toppert said of Young. "For him, it's about figuring out what are his translatable skills and working to continue to enhance those translatable skills, and filling in some of the gaps on the weaknesses. It's not necessarily about overhauling his entire game and making him something he's not. But what we want to do is prepare him for a true NBA role."
Doug Cook is a sports reporter for The Daily Courier. Follow him on Twitter at @dougout_dc. Email him at dcook@prescottaz.com or call 928-445-3333, ext. 2039.