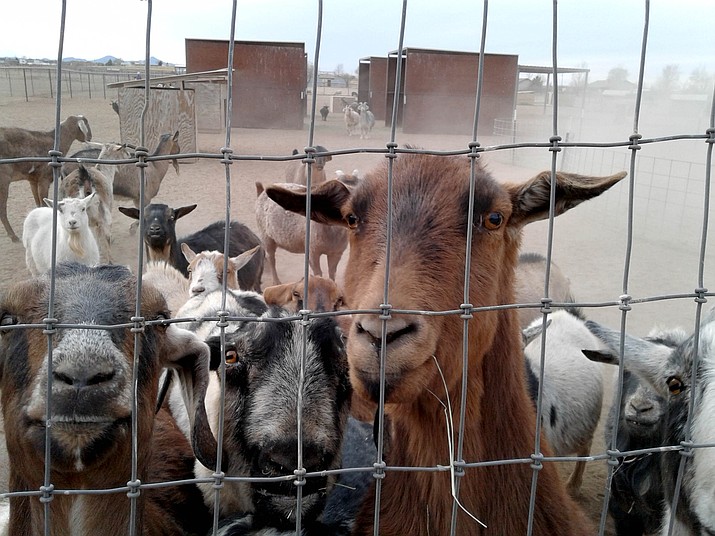 Originally Published: January 10, 2018 5:50 a.m.
It took the Circle L Ranch Animal Rescue and Sanctuary Livestock Division 10 weeks to complete the move from its previous location on Guinevere Drive in Prescott Valley to an abutting property at 7680 Coyote Springs Road.
Owner Debra Wilson restructured the Ranch operation when part of the property was sold late last year, necessitating a move of the large animals. Dr. Lucy Berg, the Ranch's new full-time manager, planned for five weeks to insure the safety and wellbeing of the animals during the move. Then the dedicated volunteer corps spent five weeks of exhausting physical labor.
As a result of this move, several horses and goats were adopted out to new homes. The cows and some of the pigs were relocated to other sanctuaries. Still, the Ranch is at capacity for its goats and pigs.
The equine rescue, rehabilitation, retraining, and adoption functions, however, are being expanded. Currently, the Ranch has one adoptable horse, a 4-year-old thoroughbred gelding under saddle.
Berg has a long history of working with animals, earning degrees in psychology, human development and family interaction, and specializing in human-animal interactions and alternative animal environmental habitat designs. She is a certified animal trainer with emphasis on horses.
"It takes a lot of love and individual care for our animals to feel safe, free and happy, and that translates to a lot of onsite volunteers and supportive community participation involving joint projects," she said. "Putting it simply, we want the community to get involved."
Future plans for Circle L Ranch include creating an educational petting plaza as well as a community vegetable garden to supplement the pigs' dinners.
As with all non-profits fundraising is crucial. Although the Circle L Ranch Animal Rescue and Sanctuary Livestock Division is a 501c(3) nonprofit organization, it is private and not public.
"This distinction means that the Ranch cannot apply for any government grants, and therefore must raise its own funding. The upside to being a private nonprofit is that it can act faster and unilaterally for the protection and care of animals rather than having to wait for a board of directors to gather, discuss and vote," said Melissa Gates, outreach coordinator.
Donations can come in the form of money, physical labor, and/or materials. Right now, the Ranch has a rather substantial wish list that includes construction and landscaping materials, small buildings, equipment, and of course, computers.
The Ranch will reopen to the public on Jan. 14, and a formal ribbon cutting and open house is planned for the near future. Berg said she is working on a new and entertaining website for the Livestock Division that she hopes will be up and running by the beginning of February.
The Ranch also wishes to recognize Tar Heel Towing, Chino Rental and the Arizona Road Riders Association Motorcycle Club for helping make the transition go as smoothly as it did.
For more information, give Berg a personal call at 928-925-1926.