Originally Published: January 10, 2018 6 a.m.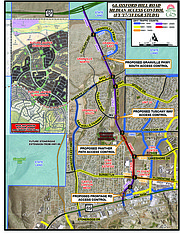 The draft traffic study of the Glassford Hill Road corridor is hefty — 150 pages, to be exact, said Norm Davis, Prescott Valley Public Works director.
The study, conducted by consultants Lee Engineering with town engineers Dava and Associates, looks at, among other things, three specific intersections along Glassford Hill Road that have no traffic signal control devices.
The three median crossings have potential for vehicle crashes along Glassford Hill Road at Pav Way, Panther Path, and Granville Parkway South.
Commercial and residential growth along the corridor has contributed to an increased traffic count that averages 25,000 vehicles per day. Balancing safety, access and mobility will take some compromising, Davis said.
One option is to eliminate left turns across Glassford Hill Road. The Humboldt Unified School District already has policy in place that directs its bus drivers to travel from Granville Elementary School north through the Granville subdivision to Granville Parkway North where there is a signal light in order to turn left and head south on Glassford Hill Road.
"The southern intersection creates a few hazards that our drivers avoid," Streeter said.
These include crossing four lanes of traffic, the proximity of the hill to the north that significantly limits visibility, and the median isn't wide enough for buses to stop and wait for traffic to clear.
"In a perfect world, there are no accidents. You drive straight up and down the road," Davis said. "But then you've got no access, and what good is a road with no access? If you have a lot of access points, what is that? It limits mobility, so how do I get around? And we all want safe intersections."
Because there are pros and cons involved in all decisions, the town has set a public Open House to discuss the corridor from 5 to 7 p.m. Tuesday, Jan. 23, in the Crystal Room on the third floor of the Prescott Valley Public Library.
The Open House format does not include a presentation, but instead allows participants to interact with town staff who note any concerns.
Davis explained that the engineer gives data and options; town staff ultimately gives their recommendations to Town Council members who make the decision on what action to take.
The draft report is not available to the public, and it doesn't conclusively say, "This is the thing to do," Davis said.
The draft study did review crashes on Glassford Hill Road and found a total of 228 crashes took place in a three-year period between 2014 and 2016. About 32 percent involved at least one injury, and one crash — less than 1 percent — involved a fatality. About 16 percent were left-turn crashes.
"Rear-end crashes account for about half of the crashes on the corridor, not unexpected for a heavily-traveled corridor with frequent signals," the draft report states.
While the science may say no left turns are a good thing, not everybody will be happy with a change. "We're not going to close all three right away, and there are options. We'll get public opinion on it," Davis said. "If we are having a wreck a week, maybe consensus is to restrict some of the access for the condition of safety. But if you close an access, people will use a different route; that's where mobility comes in. There's always a balance to work toward."
Dava and Associates give an estimate of costs for the recommendations. Davis said the town also looks at whether more or less signage is necessary.
"Obviously, we've spent money on widening Glassford Hill Road. We take a look at all the facets. With 25,000 to 27,000 cars a day on the road, we start paying attention to make it as safe as we can," he said.
Three intersections
Three intersections along Glassford Hill Road experienced crashes in three years, 2014-2016.
Granville Parkway South: 9 crashes, 8 of which involved left turn.
Panther Path: 2 crashes, neither involved turning movement.
Pav Way: 5 crashes, all of which involved an eastbound or westbound median-crossing maneuver.