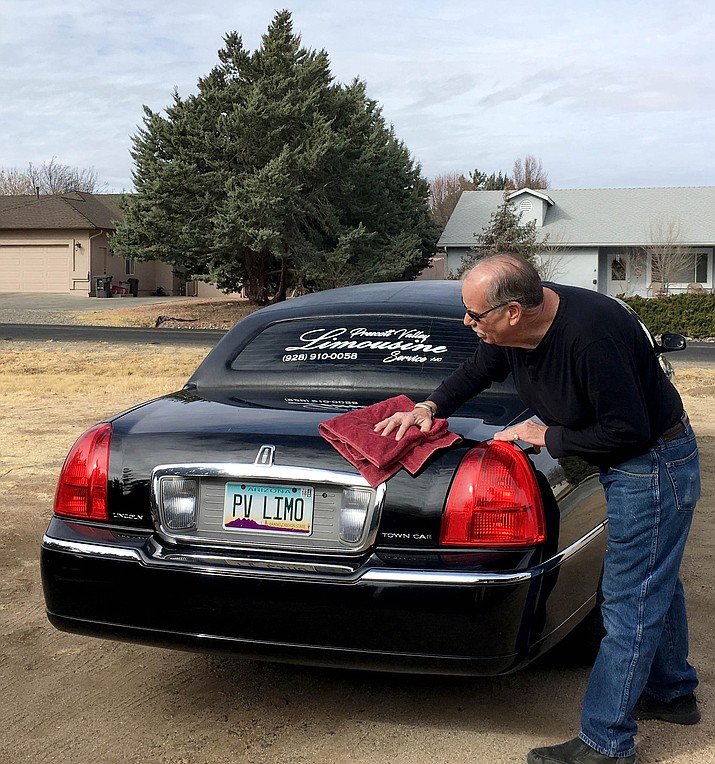 Originally Published: January 10, 2018 6 a.m.
Willie Nelson. Bruce Springsteen. Dallas Cowboys cheerleaders. Sen. John McCain. Astronaut Alan Bean. Ray Charles. Madeleine Albright. Prince.
Tim Kennedy has chauffeured the big names as well as the lesser known.
One thing he makes perfectly clear — especially after driving clients Paula Jones and Gennifer Flowers: "What I hear and see in the back of the car stays there."
Kennedy hosted a ribbon-cutting event for his new limousine service, aptly named Prescott Valley Limousine Service, on Jan. 5. Making Family Memories Fun is his website's tagline, and he is ready to roll out the red carpet for anyone.
"I've driven a lot of celebrities and now I have the opportunity to make anybody a star," the Prescott Valley resident said. He moved here from Little Rock, Arkansas, in December 2015.
So what kind of occasions merit a limo ride?
Wine tasting and art events. Weddings. High school proms. Family reunions. Longer trips to Phoenix events. Or Las Vegas, for which he has had inquiries but not yet booked a trip. Even funerals.
"I drove a little for the mortuaries. This is more of a party car, so maybe an Irish funeral because, traditionally, they like to party it up," Kennedy said with a laugh.
He considers himself fortunate to have purchased the 30-foot 2007 Lincoln Limousine used by previous owners to drive their grandkids around. It had 80,000 miles, originally cost well over $120,000 to customize, and spent most of its life garaged.
With three TVs, two complimentary bars (for those 21 or older), fiber optic lighting, a 3,000-watt sound system, 15 feet of soft leather couch space, and a fresh polish every week, it will make anyone feel very special.
"I want to make memories and good times. Everybody is treated like royalty," he said.
The car is licensed for libations and Kennedy doesn't drink. He is available 24/7 on a two-hour notice.

A recent trip took him over Mingus Mountain — a drive he said he won't repeat. The clients were celebrating a family reunion and booked a special dinner in Sedona.
"Those hairpin turns. The people in the back were cheering, but they had no clue. Traffic came to a stop at that one bar on the corner when I came through Jerome. People poured out in the street. I was stressed. That road is not limousine friendly," he said, adding that the family created some great moments while spending time together in the back of the car.
The limo carries a maximum 10 people, but adults might have more elbow room and comfort traveling as eight. He does have a security clearance, is armed, and in communication with local law enforcement. The vehicle received an A rating on its inspection through the Arizona Department of Motor Vehicles two months ago.
Kennedy remembers fondly two less famous people he chauffeured. They were two children he met through the Make-A-Wish Foundation who didn't live long afterward.
"The families have some good memories. I'll never forget those children."
For more information, visit pvlimoservice.com or call Tim Kennedy at 928-910-0058.