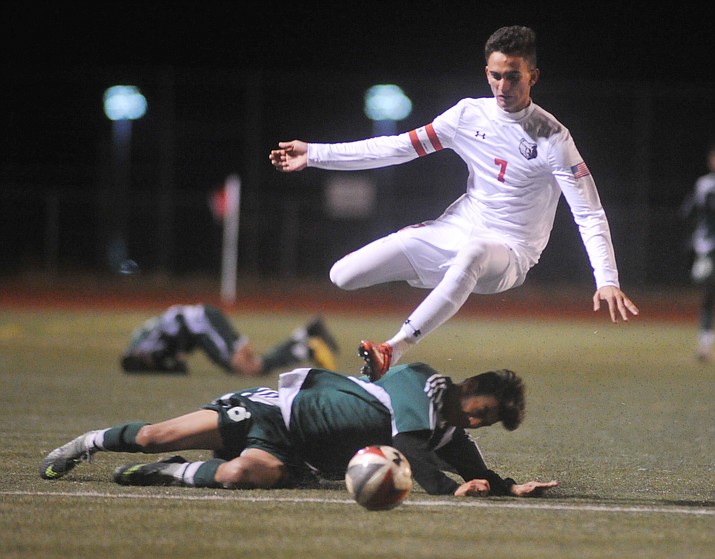 Photo by Les Stukenberg.

Originally Published: January 11, 2018 6:01 a.m.
Photo Gallery
BMHS vs Flagstaff Soccer 011018
At this late stage of the 2017-18 season, Bradshaw Mountain and Flagstaff's boys soccer teams find themselves neck-and-neck in the lower tier of the 4A conference's Top 24 rankings, which made Wednesday night's showdown between the squads relatively important.
No. 18-ranked Bradshaw Mountain lost to 15th-rated Flagstaff, 1-0, as the Eagles got a potential leg up in their 4A playoff push at Bob Pavlich Field in Prescott Valley. The Eagles snapped a scoreless tie around the 80th minute of regulation with a late goal and held on for the win.
The Grand Canyon region match had been postponed from Tuesday because the Arizona Interscholastic Association (AIA) lacked available officials, Bears coach Bruce Giles said.
With the loss, Bradshaw Mountain's record dropped to 4-4 overall in power-point games and 1-1 in region. Flagstaff improved to 5-2-1, 3-0.
If the 4A state tournament had begun this week, Bradshaw Mountain would have qualified for the play-in round. That round pairs the ninth- through 24th-ranked teams in one-game playoffs to determine the eight squads that receive at-large berths into the 16-team tournament bracket. Only the Top 8-rated teams at the end of the regular season automatically qualify for state.
The Bears have four matches left, all in region, including Senior Night versus Mingus Union at 5 p.m. Wednesday, Jan. 17, in Prescott Valley, and three on the road. They visit region leader and No. 6-ranked Mohave (6-0-1, 2-0) Jan. 19 in Bullhead City.
"This loss to Flagstaff lowers the odds [for us to qualify for the state tournament], perhaps significantly," Giles said. "It depends on what happens when we play Mohave and when Mohave plays Flag [Jan. 16 in Flagstaff]."
UP NEXT
Bradshaw Mountain visits region foe Lee Williams (2-7 in power-point matches, 0-3 in region) at 3 p.m. Saturday in Kingman.
Flagstaff will play host to Prescott (4-3, 0-1) at 3 p.m. today, weather and field conditions permitting.