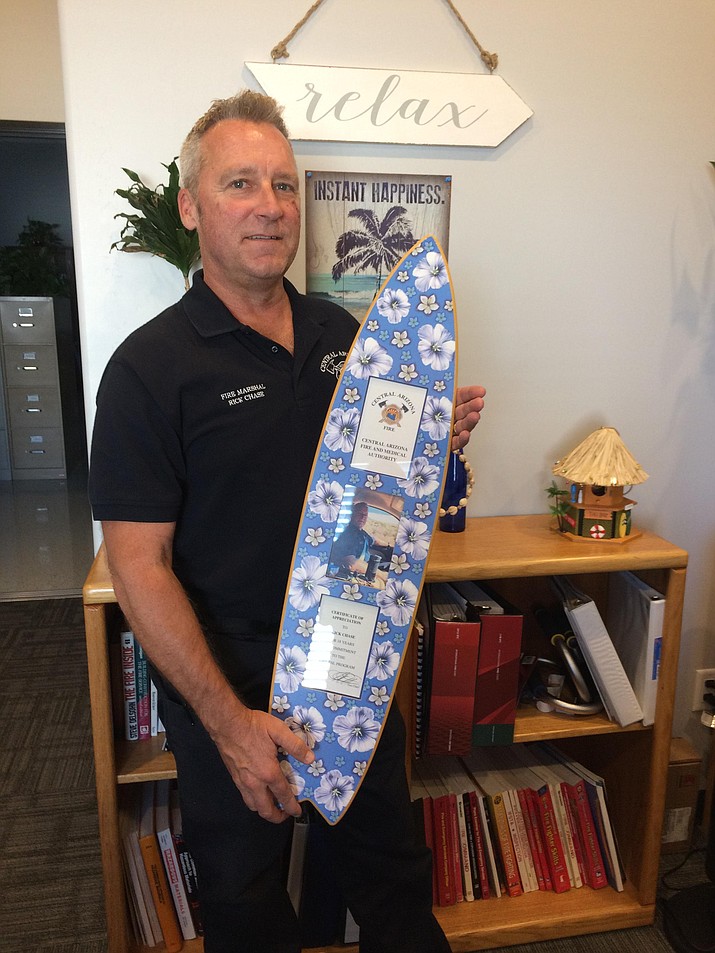 Originally Published: July 1, 2018 6:02 a.m.
Rick Chase knows what it is to chase a dream, chase adventure and chase a fire.
Yet, he's anything but reckless in whatever he chases — for almost two decades the career firefighter/official has devoted off-duty hours to teaching public safety to hundreds of area students.
The 52-year-old Central Arizona Fire and Medical Authority fire marshal relied on his background in the construction industry and almost a quarter century of firefighting and public safety awareness skills and drills to become a "fire pal" to kindergartners up to fifth-graders in the Humboldt Unified School District. The long-time surfer, wakeboarder, water and snow skier and married father of four — he and wife, Debbie, have a daughter, Ricki, 21, a son, Ryan, 13, and twin sons, Luke and Cole, 11 — is passionate about teaching today's youngest generation about safety and survival strategies.
"I always figured if I made a difference to one kid then it was worth it all," Chase said as he recalled stories such as the boy who dialed 9-1-1 to get help for his mother when she fell off a ladder.
Through the authority's well-established Fire Pal program, based on a similar one started in Phoenix, Chase and his fellow volunteers have taught children everything from when to dial 9-1-1 to making sure they know two ways to get out of their house or any place they might go. The Fire Pal volunteers drill the boys and girls in "stop, drop and roll" and introduce them to an inflatable fire safety house filled with non-toxic smoke so they can learn how to crawl under the smoke. They emphasize the importance of smoke detectors and protecting their family property from wildfire dangers.
The program, however, is not just focused on fire emergencies.
Fire Pal volunteers meet with students once a month and touch on topics that include bike safety, cooking tips, how to be a prepared babysitter and handle bullying situations they witness or experience.
Beyond those lessons, Fire Pal volunteers build a rapport with the community's children that Chase predicts will resonate long after the classes end. He knows he often encounters children when he is out and about in the community who will remember him as their "fire pal."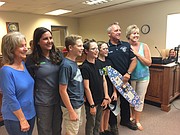 HONORED
On Tuesday night, Chase was honored by his colleagues and supervisors for the role he has played in the success of the program. His twin sons just finished the year-long course, and with the demands of his work, family and other community commitments, Chase decided this was the time to step down.
In presenting him with a plaque — shaped as a surfboard — Assistant Fire Marshal Andie Smith heralded Chase for his "huge heart for children" that led him to make such a significant contribution to their lives.
"He's made the children of our community safer," Smith said.
After the ceremony, Fire Chief Scott Freitag added his compliments.
In the five years he has been with the department, Freitag said he considers himself privileged to work with the veteran firefighter and fire marshal who has always shown a "true compassion for the community, for educating people, including kids, about public safety."
Chase is the head of a four-person team, including Smith and two other fire investigators, Chuck Dowdy and Brett Mills, who Freitag commended for their focus on prevention and "staying true to our core values."
"He's an all-around professional with a caring and compassionate heart committed to what he does," Freitag said.
LONG ROAD
Chase grew up in central California, attending firefighting school in southern California, and ended up in Prescott after his parents moved to the area and informed him about a reserve firefighter program. At the time, Chase was building houses and was able to get a job with a local contractor while also taking Emergency Medical Technician classes. In 1994, Chase was accepted into the fire service for the Prescott National Forest and then a year later was hired with the Prescott Hotshots that then led to a part-time position as a reserve firefighter with the Central Yavapai Fire District. He continued to also work part-time in the construction business until he was hired as a full-time firefighter in 1997.
For 15 years, Chase worked on an engine company, five as captain. Seven years ago, Chase accepted a promotion to fire marshal. He counts himself lucky each day to work with an exceptional team.
"Everyone has something great to bring to the table," Chase said, crediting his assistant for bolstering his skills.
Throughout his fire service career, Chase has voluntarily trained for various specialty jobs, including teams that handle hazardous materials, swift water rescue and arson investigation. He said he never stops taking classes. "There is always something new to learn," Chase said.
Chase, too, stays active in the community, be it with the Wildland Fire Expo, Read Across America or the Lions Club Turkey Drive.
In his down time, Chase and his family play outdoors. And, he still surfs.
In his office is a sign that reads, "Instant Happiness. Just Add Water."
"I love living and working here," Chase said. "I feel very blessed, fortunate, to have this career."
Follow Nanci Hutson on Twitter @HutsonNanci. Reach her at 928-445-3333 ext. 2041.