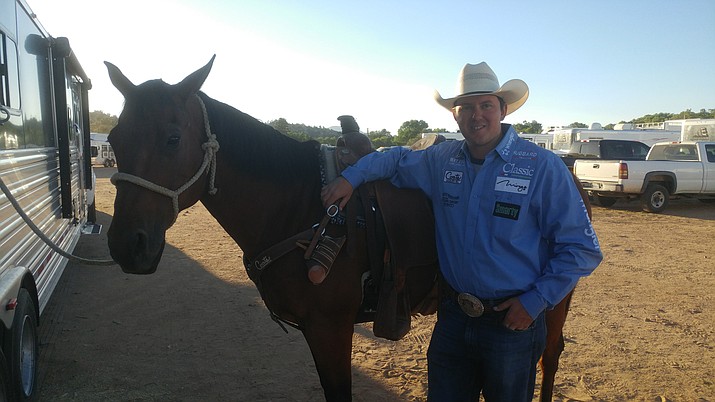 Originally Published: July 2, 2018 6:05 a.m.
PRESCOTT — Team roping header Tom Richards of nearby Humboldt and his heeling partner Trevor Nowlin of Casa Grande didn't start competing together at Professional Rodeo Cowboys Association (PRCA) rodeos until June.
Nevertheless, their chemistry seemed palpable during the first performance of the Prescott Frontier Days "World's Oldest Rodeo" June 28 at the Prescott Rodeo Grounds, as they finished fifth in the first go-around with an impressive time of 7.9 seconds.
"We've known each other just from ropin' and stuff," Nowlin said of his relationship with Richards prior to the first performance. "I came up [from Casa Grande south of Phoenix to Humboldt] and saw him one day, and we talked about it and decided to rope."
Richards, 27, who placed 15th in the PRCA's final world standings for team roping in 2017, struggled to begin the 2018 season. Frontier Days Rodeo General Manager J.C. Trujillo had a simple explanation.
"He's not in the top right now. He had kind of a tough winter [in rodeo]," Trujillo said of Richards. "He changed partners a couple different times, and the other thing is he just got married [to RaShel Richards, formerly Garside] here in May. That kind of thing sets a guy in a different zone for a little while."
Trujillo added that Richards is entered "at a bunch of rodeos over the Fourth of July" to try and make a push in the world standings. Richards currently sits outside of the world rankings' Top 50.
Richards admitted that "this winter wasn't that great for me" in the rodeo arena. He said he sold a head horse, "a good horse of mine," and initially thought he would hang out in Humboldt for a while. But when Nowlin told Richards he wanted to rope with him at Prescott Frontier Days, his plans changed.
"I decided we'd go and try it out a little," Richards added.
Before registering at Prescott Frontier Days, Richards and Nowlin, who rides a quarter horse called Creeper, roped at five other rodeos, including the Greeley Stampede June 22 through July 4 in Colorado. Richards was disappointed at how Greeley went, but he's staying positive.
After Richards and Nowlin left Prescott, they traveled to the Flagstaff Pro Rodeo in Flagstaff (June 28-30) and the Navajo Nation 4th of July ProRodeo in Window Rock (July 4-7). Richards said they were "going to kind of ease around here [in Arizona] for a little bit."
"We just started ropin' — we ain't really got on a roll yet," Richards said. "But we're stickin' it out right now and we're going to try and finish strong."
In 2017, Richards qualified for the National Finals Rodeo (NFR) — pro rodeo's Super Bowl in December — by sneaking in among the Top 15 headers in the world. It was the second time he's made the NFR since he joined the PRCA in 2009. He first reached the NFR in 2014.
"It's hard every year to make it," said Richards, who rides a quarter horse named Big Money, of the NFR. "It's gotta go your way, and you've gotta draw good [calves to rope], stay healthy, keep your horses good."
Doug Cook is a sports reporter for The Daily Courier. Follow him on Twitter at @dougout_dc. Email him at dcook@prescottaz.com or call 928-445-3333, ext. 2039.