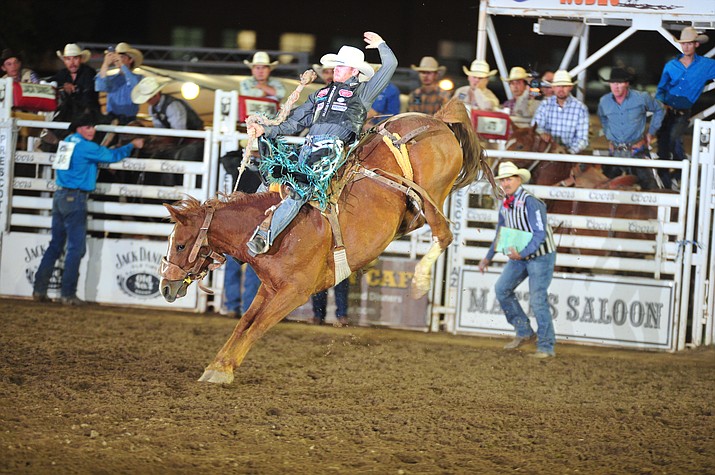 Originally Published: July 3, 2018 6:05 a.m.
PRESCOTT — Saddle-bronc rider Jacobs Crawley of Boerne, Texas, has had good reason to smile halfway through 2018. Not only is he on top of the Professional Rodeo Cowboys Association's (PRCA) world standings, he and wife, Lauren, had their first child last November.
While Lauren and 8-month-old son Corley Deane are at home in the Lone Star State, the bearded, strawberry blonde-haired Crawley, who bears a striking resemblance to Ron Howard, has been winning and winning and, well, winning some more.
"It feels like I'm playing with house money," Crawley said from behind the chutes at the Prescott Frontier Days Rodeo June 29. "The pressure's off and life is good, so it's just lettin' me go have fun."
Crawley, who turned 30 on May 27 and whose first name is his paternal great-grandmother's surname, didn't fare as well as anticipated in his appearance in Prescott last week. Despite a 79-point ride on a Harry Vold horse called Ring Binder that couldn't keep him in the Top 8 here, his accomplishments this season speak volumes.
This year, through July 1, Crawley had won buckles at 13 different rodeos and was the co-champion of another. Eleven of those titles came in Texas. He travels with his younger brother, Sterling Crawley, the 2011 PRCA Resistol Saddle Bronc Riding Rookie of the Year who's a four-time National Finals Rodeo (NFR) qualifier and currently ranked 12th in the world standings.
"The last few years have definitely been a blessing," said Crawley, who has a light Southern drawl. "At the end of the day, it just boils down to keep workin' at it. No matter what you're doin', you keep tryin' to develop and you keep tryin' to learn.
"You find out what works, and you stick with that, and then your other points you can work on and tweak."
Crawley added that those tweaks have occasionally involved small changes to equipment or a particular routine. He's not afraid to try new things, in other words. He's also conscious of his health so that he can be "on top of his game mentally and physically."
In March, Crawley broke his saddle, one which he had used for the past six years. He said there was a "learning curve" involved with finding a new saddle because he wanted one with a similar feel to the old one. The trouble for Crawley was that his saddle maker quit making the saddle he likes some five years ago.
Luckily, Crawley had already purchased saddles similar to the one he had and began working in those saddles, which were considered backups. He recently alternated among three or four saddles until he found the one he liked best.
Saddles are important to bronc riders because they must be comfortable and fit your legs just right. Crawley said "there's a lot of things that come into the motion of the spur [on your boot] that are different in a lot of different saddles."
"The closest one I've found is the one I'm in now," Crawley added about his saddle. "I've only been in it for about a week, but I finally got it in time for the big summer run. It's tough. They're kind of a handmade deal. It's not something that's mass produced; there's not just tons of them out there. And, so, you find one that you like and you stick with it.
"It's kind of like a putter is to a golfer. It's a unique feel."
In 2017, Crawley reached his seventh straight NFR, the Super Bowl of pro rodeo, since 2011. A pro since 2006, Jacobs captured his lone world championship buckle in 2015. Could 2018 be his year to reign again?
Last December, the 5-foot-7, 155-pound Crawley finished fifth in the world standings and eighth at the NFR. Heading into the meat of the busy Cowboy Christmas schedule this summer, Jacobs had already won more than $104,000. That put him at least $30,000 ahead of current No. 2-ranked Wade Sundell of Boxholm, Iowa, who posted an 82.5-point ride on Vold's Sombrero last week in Prescott.
"It's been my best winter — I won some rodeos that I've wanted to cross off my bucket list, like San Antonio," Crawley said. "It's my hometown rodeo. I live 20 miles from San Antonio, and it's our big one in the winter. Winning it was huge. And then [winning at] Fort Worth [near Dallas] and some of these other ones, it's been great.
"I'm not worried about the standings. I'm not worried about having my back against the wall. I'm relaxed and going through it, and I'm doing my best."
Doug Cook is a sports reporter for The Daily Courier. Follow him on Twitter at @dougout_dc. Email him at dcook@prescottaz.com or call 928-445-3333, ext. 2039.