Originally Published: July 4, 2018 6:02 a.m.
You can spot them everywhere, but you have to know what you're hunting.
Spring Valley resident Julie Brostrom-Pope has formed Mayer AZ Rocks, a group that paints rocks, hides them, and asks only that the finder take a picture and put it on the Mayer AZ Rocks Facebook page.
Leaving painted rocks for others to find and either keep or re-hide is an international movement, Brostrom-Pope said. In fact, Autumn Moore, a 10-year-old Cordes Lakes resident, painted a rock and hid it in Cleator.
"That rock went to Canada and Costa Rica. The people kept traveling around the world with it," Brostrom-Pope said. "Last week, it wound up in Buenos Aires, Argentina."


She started the Mayer AZ Rocks Facebook group, presently with 707 members, about a year and a half ago after she was inspired by Bullhead City Rocks, currently with 10,920 members. Bullhead City Rocks Facebook group administrator was inspired by Whidbey Island Rocks, Washington.
Group founders acknowledge whatever group inspired them after finding one of their rocks. "Now, if someone finds mine and they want to start a page, they give credit to Mayer AZ Rocks," she said.
On Brostrom-Pope's Facebook page, she writes, "Painting rocks is good for the soul. It gives you an opportunity to be creative, and being artistic has been proven to reduce stress and anxiety. Getting outside in our beautiful area and hiding or finding rocks has a multitude of positive benefits."
Recently she taught rock painting as part of the Dewey-Humboldt Town Library's summer reading program. The children (and adults) painted their rocks, dried them outside in the sun, and Bostrom-Pope sprayed several layers of a clear sealant on them.
On the bottom of the rocks, she writes, "Post pic to Mayer AZ Rocks on Facebook and keep or rehide."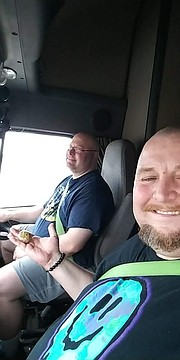 Sometimes rock painters give clues where to look. A June 24 Facebook post stated, "We hid rocks today. Hints most in PV. Costco, Walmart, car wash, Harkins and post office in Mayer."
Sometimes the rocks end up in other states or people exchange them with fellow rock painter friends.
"One librarian in Cordes took a bunch of students' rocks and they hid them in Nashville. Unfortunately, people keep them and don't take pictures. We don't want them back, we just want to know where they go," she said.
A local long-distance truck driver found a Mayer AZ rock, named it Dwayne and traveled with it from coast to coast. Wherever he stopped, he took a picture of Dwayne, Brostrom-Pope said.
USA Painted Rocks, with 12,782 members, posted instructions on proper behavior on its Facebook closed group page that include no posting of addresses or phone numbers, and a request not to use the words "rock hoarder."
Other sites advise not to hide rocks in grassy areas where there are lawn mowers; don't hide inside stores; and if hiding in cemeteries, don't mess with the graves. If people keep every rock they find, they're missing the point — it's about the joy of giving and about providing a fun affordable outdoor activity.
Brostrom-Pope said she started the Mayer group as a reason to get the community together.
"We had nothing going on out here, so I thought this is something we need to do. And it works. I get a lot of thank-you's. In cooler weather, grandparents or parents will go rock hinting," she said.
Prescott Valley and Prescott have started their own groups, she added, so the Mayer group has moved back to hiding their rocks closer to home.
Brostrom-Pope often teaches six-week classes in rock painting for children and adults through community centers and libraries. Some people gather for exchange parties and family paint parties. "We use rocks as prizes," she said. "I've found that a lot of rock painters are also rock collectors."
Follow Sue Tone on Twitter @ToneNotes. Reach her at stone@prescottaz.com or 928-445-3333, ext. 2043.