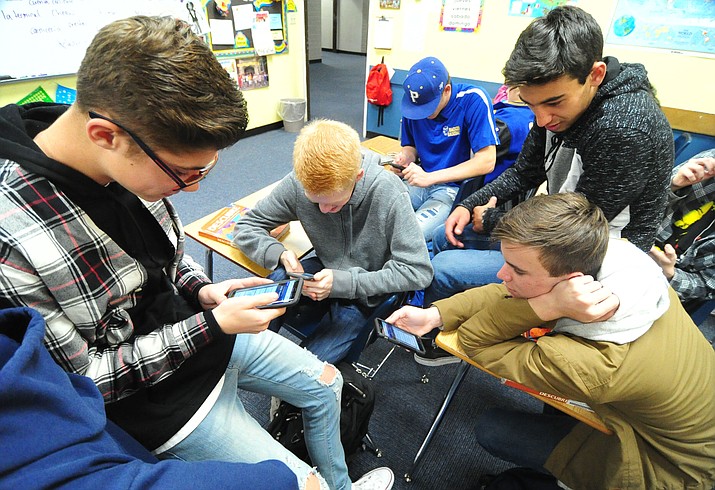 Photo by Les Stukenberg.

Originally Published: March 7, 2018 6:04 a.m.
Two news items in the past week really make me wonder what officials are thinking.
First up is the revelation that schools in the tri-city area, including Humboldt Unified School District, have abandoned their efforts to control student use of cell phones in school.
Sure, they utilize them as a tool — doing pop quizzes online and such; however, I cannot get past the idea that students can text back and forth, wasting time, not paying attention, and potentially cheating.
I wish Arizona schools could afford what my sister's school has in Windsor, Colorado — a computer for each student that, get this, she can monitor. On her teacher's version, she can see what they are doing or not doing. It embraces technology but controls it for the classroom setting.
The other concern I had this week was how the Motor Vehicle Division of ADOT, as of Monday, March 5, allows testing for a learner's permit to be conducted on the internet.
Citizens who are at least 15 years and 6 months old, can visit ServiceArizona.com and take the Permit Test @ Home at any time of the day. As with the in-person test, if they get at least 24 of the 30 questions on the test correct, then they are officially considered a first-time driver. (By the way, I remember 27 being the required threshold.)
It is not as if the schools do widespread driver's education classes anymore — they do not. And at the root of the concept is parents are closely involved.
"The whole exercise is basically a reminder that it's a learner's permit," said Douglas Nick, ADOT's assistant communications director for Customer Outreach. "If you're a learner's permit holder, you're going to drive with a licensed driver in the front seat with you. More often than not, that's going to be a parent, and that parent is the one who is going to be proctoring the test, so that parent has a real strong motivation to want the teenager to take that test seriously."
That is not the way it always works, folks. What if Mom or Dad cares little about the test? What safeguards are in place to make sure Junior is actually the one taking the test? How about whether the "student" is taking the test with an open book (cheating)?
The excuse that "so much of what the economy is based on is online commerce now," as Nick said, does not cut it for me.
Similarly, this program is designed to further cut down on wait times — long lines — at MVD locations … something we thought they had already been achieving, according to recent articles.
Nick also states that, with so many things going or growing online, "there's no reason that government can't respond in the same way when it's technologically feasible to do so."
I disagree. Just because you can take an official out of the equation, does not mean you should.
Reminder, these are the same teens — under the learner's permit — who have been told it is illegal for them to text and drive, according to the state law enacted in 2017.
Will the student still be required to pass a road skills test to obtain a full-fledged driver's license? Yes. Should we put a little distance between kids and their cell phones, especially in school? Absolutely. We must hold our children — or their education — to higher standards.
Community Editor Tim Wiederaenders is the senior editor for the Prescott Valley Tribune and Prescott Newspapers, Inc. Follow him on Twitter @TWieds_editor. Reach him at 928-445-3333, ext. 2032, or twieds@prescottaz.com.