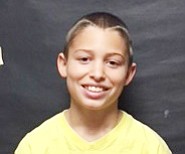 Originally Published: March 7, 2018 5:50 a.m.
Jaxon Moore is a sixth grade student who was chosen unanimously by his peers and teachers as Student of the Week for Mountain View Elementary School. He is a straight "A" student who recently won third place in the Yavapai County Spelling Bee. He also represented Mountain View in the Spelling Bee last year. This year he not only studied the spelling of words but the origins as well. He strives each and every year to enhance his spelling skills which are strengthened by his desire to read.

He can often be found checking out books at the public library on Saturdays. Rick Riordan is one of his favorite authors so much so that he has started purchasing the series. One could spend hours just listening to Jaxon as he shares favorite parts from all of the books he has read.

Jaxon is the youngest of three boys all of which attend schools in the district. In his free time, when he is not reading, he loves to bike around town with his brothers, playing soccer, basketball, and baseball at the park. He has been to twenty-two different states traveling and is hoping to see Bryce Canyon this summer. Jaxon, is an awesome young man who models great citizenship, academic endurance, and kindness.
Information and photo provided by Humboldt Unified School District.