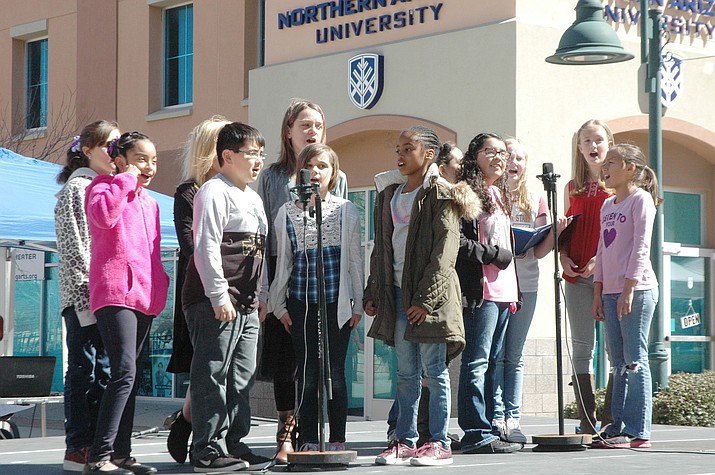 Originally Published: March 7, 2018 5:55 a.m.
Information, support at Senior & Caregivers Expo March 16
Caring for an older relative or an otherwise disabled family member? Helping a friend in need of support?
The free Senior and Caregivers Conference and Expo puts more than 60 providers in one place this month.
The Expo is planned for 10 a.m. to 3 p.m. Friday, March 16, at Liberty Traditional School, 3300 N. Lake Valley Road Prescott Valley. Admission and parking are free.
Booths will be available with information on senior and caregiver products, services and support. In addition, local experts will provide presentations on challenges seniors and caregivers face.
For more information, call Debbie Stewart at 928-778-3747 or visit the website www.SeniorConnection.us.
Public Library offers money fitness class
From 6 to 7 p.m. Tuesday, March 13, the Money Fitness class will discuss the topic Debt and Credit: Friend or Foe? Seating is limited; registration is required. Register online at pvlib.net, classes, Money Fitness. Contact Carol at 928-759-6193 for more information.
The class will be in the PC Lab of the library, 7401 E Civic Circle Drive.
Prescott Coin Club meeting March 7
The Prescott Coin Club will meet at 7 p.m. Wednesday, March 7, in the POA Building at 1133 Old Chisholm Trail in Prescott Country Club in Dewey. For information, call 928-772-7144.
American Legion seeks donations
The American Legion Post 78 in Dewey-Humboldt currently has a dirt parking lot. Having asphalt would make it easier for all-especially those with wheelchairs and walkers, to enter.
They are currently seeking donations of quality items to sell to earn money for an "asphalt fund." Please drop off your donations at 3301 Highway 69, Humboldt. All proceeds will go to this cause which will benefit veterans at the American Legion Post 78.
Your help and consideration is appreciated.
Project Lit Book Club meets April 3
Are you a teenager? Are you the parent/guardian/grandfather/fairy godmother of a teenager? Then this program is for you! Project Lit is an exciting new program that will begin in April at the Prescott Valley Public Library. Our hope is to encourage teens and their families to read incredible young adult books and have genuine discussions about topics that are happening in the real world. There will be plenty of laughs, maybe some tears, and definitely a good time! The first Project Lit meeting will take place at 6 p.m. Tuesday, April 3, in the Crystal Room. They will be reading "All American Boys" by Jason Reynolds. Limited copies will be available to take home in the Teen Office. For more information, contact Shelbie at 928-759-3038.
Book clubs meet this month
The PVPL Afterthoughts Book Club meets from 5:30 to 7 p.m. Tuesday, March 27, in the Glassford Hill Room to discuss "The Storied Life of A.J. Fikry" by Gabriel Zevin. For more information, call 928-759-6193.
In March, the PVPL Book Club will be reading and discussing "The Light Between Oceans" by M. Stedman. This group meets each month at 10:30 a.m. the third Thursday. Pick up your copy and join the club from 10:30 a.m. to noon Thursday, March 15, in the Glassford Hill Room.
D-H Library book sale is underway
The Friends of the Dewey-Humboldt Library announce expanded book sale hours from 10 a.m. to 5 p.m. Tuesday, Wednesday and Friday; from 1 to 7 p.m. Thursdays; and 10 a.m. to 2 p.m. Saturdays. Hardbacks are priced at $1, and .25 paperbacks include bestsellers, Westerns, health/diet, politics, romance and animals. The library is located at 12735 N. Corral St., Dewey-Humboldt. For information, call 928-632-5049.
Free tax-preparation service available
Volunteer Income Tax Assistance is available from 9 a.m. to 4 p.m. Mondays and Tuesdays at the Prescott Valley Library's Crystal Room, third floor, 7401 E. Civic Circle, as well as from 5 to 8 p.m. Wednesdays, and from 9 a.m. to 3 p.m. Saturdays.
The assistance is available at Catholic Charities, 434 W. Gurley St. Appointments are recommended. For more information, call (Prescott Valley) 928-460-9895 or (Prescott) 928-778-2531.
Impact of stress on kids topic of training
Many teens have had life experiences that have the potential of eliciting a traumatic stress response which can impact learning, relationships and the accomplishments of developmental tasks.

MatForce offers a training from 9 a.m. to 3 p.m. Friday, March 9, at the Step One Coffee House, 6719 E. 2nd St. in Prescott Valley.
The training will focus on understanding adolescent brain development and the affects of traumatic experiences in childhood and adolescence.

The training is intended to help participants recognize the types of experiences likely to be stressful and traumatic for children and adolescents, understand how stress and trauma in childhood and adolescents affect the developing brain and how trauma may impact psychosocial development, behavior, learning and relationship. Participants will also learn to identify characteristics and components of stress/trauma informed practices in working with adolescents.
This training will be facilitated by Barb Iversen, M.C., N.C.C, a certified adolescent health trainer. The cost of the training is $20 which includes lunch. To register go to the website www.matforce.org or call 928-708-0100.
Town seeks volunteers
Volunteers with a general knowledge of zoning concepts and town codes are sought for the Prescott Valley's Board of Adjustment. The board interprets and enforces town code, including in regard to zoning. Those chosen for the positions would be appointed by the Town Council.
Applicants must live and reside within the Town of Prescott Valley. Applications are available at the town manager's office, on the fourth floor of the Civic Center, 7501 E. Civic Circle, from 8 a.m. to 5 p.m. Monday through Friday. Applications will be accepted until the positions are filled.
YRMC CEO to speak on hospital's 75th anniversary
The League of Women Voters of Central Yavapai County, in collaboration with Osher Lifelong Learning, is hosting a Munch & Learn with John Amos, president and CEO of Yavapai Regional Medical Center.
The event is set for 12:30 p.m. to 2 p.m. Thursday, March 8 in Building 3 (the cafeteria), Room 119 at Yavapai College, 1100 E. Sheldon St., Prescott. Amos will inform about YRMC's 75 years — milestones, economic impact to the area, future plans, and stories from the Memory Catcher Project. The meeting is open to the public.
Hotshots memorial park presentation is March 10
"We Have a Park?!" — a presentation by Monte Crooks — is set for 2 p.m. Saturday, March 10, in the Community Hall, 3150 Old Skull Valley Road, Skull Valley.
He is a shuttle bus driver for the Granite Mountain Hotshots Memorial State Park in Yarnell. His program will include an overview of the park and information about how everyone can help honor the fallen 19 firefighters.
He has served as a First Person Living History Interpretive Park Ranger at Golden Spike National Historic Site in Promontory Summit, Utah, and began at a young age giving interpretive programs in state parks in California.
The program is free to the public, and refreshments will be served. For information, call Josie at 480-221-7424.
Studio Tour puts out call for artists
The Prescott Area Artist Studio Tour is now accepting applications for the 11th annual Prescott Area Artist Studio Tour, which will be held 10 a.m. to 4 p.m. Oct. 5, 6 and 7. Applications are available at www.PrescottStudioTour.com. For more information, email: info@PrescottStudioTour.com.
The Studio Tour is open to all artists in the quad-city area: Prescott, Prescott Valley, Chino Valley, Paulden, Dewey-Humboldt, Mayer and the surrounding areas.
This is a juried show. The application deadline is April 6. Participation fee is $150 if application is received by the Early Bird deadline of March 16 or $175 if not received until the final deadline of April 6.
Mediums include ceramics; digital art; drawing/pastels; furniture; glass; jewelry; metal; mixed media; acrylic, oil and watercolor painting; photography; printmaking; sculpture; textiles/wearables and woodworking.
If juried into the Tour, artists may choose to be in their own studio, be a host studio for other juried artists, or be included in another host studio.
Last year this free, self-guided tour featured 59 juried artists at 39 private studios throughout the Quad Cities. These artists exhibit locally, nationally and internationally. Photos and information about last year's Tour can be found on the Studio Tour website.
Abstract painting and multimedia art class
Prescott Valley Public Library, 7401 E. Civic Circle Drive, is offering a four-week class in Abstract Painting and Multimedia, from 2 to 4 p.m. Thursdays in March (March 1, 8, 15 and 22). Learn to utilize music, movement, color and texture to inspire imagery and other artful elements.
Space is limited; registration is required. Register online at pvlib.net, Creative Aging Classes. Classes are held in the Library's Glassford Hill room. For more information, call 928-759-6189.