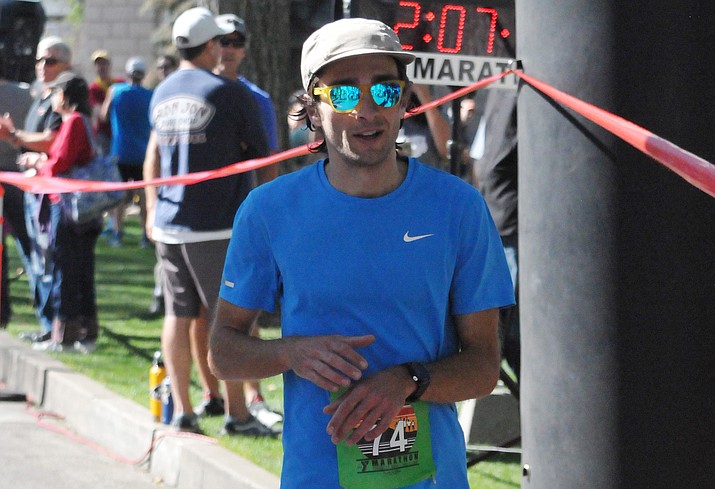 Originally Published: May 5, 2018 10:47 p.m.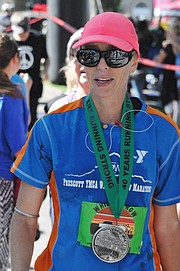 Davidson of Tucson takes care of business on men's side
PRESCOTT — Tanaya Gallagher of Sedona not only broke her own course record for women in the Whiskey Row Marathon on Saturday morning. She obliterated it.
Gallagher, who had already posted three of the fastest female times in the race's glorious 40-year history, crossed the finish line on the Courthouse Plaza in 3 hours, 8 minutes and 55 seconds for her seventh Whiskey Row Marathon win since 2008. That time's nearly 11 minutes faster than her previous record time of 3:19:38, set in 2013.
Randi O'Neill (formerly Simon) of Prescott Valley repeated as women's runner-up in 3:34:18.
"I actually am humble," a jubilant, albeit emotional Gallagher said. "I'm just really happy."
In 2017, Prescott's local running community got a taste of what Gallagher remained capable of when she finished 1 second shy of tying her 2013 mark at 3:19:39. She accomplished the feat despite not running the Whiskey from 2014-16.
On the grueling 26.2-mile course at mile-high elevation, which climbs the city's hillier streets and some tree-lined portions of the Prescott National Forest, Gallagher, 32, entered Saturday healthy. In 2017, Gallagher ran the marathon two months after undergoing successful surgery to remove an ovarian cyst, which had been sapping her energy.
"I just wanted to come out and remember the joy of running, to be honest," Gallagher said. "Last year was just such a surprise, time-wise. I can't say this felt any harder than any other year. It's always hard. But it was great."
Like the 2017 race, Gallagher's husband of 2-1/2 years, Joshua Esquivel, was by her side at the finish line.
"We came out here and ran the course a couple times, and ran Schnebly Hill in Sedona," Gallagher said. "For this run, I was coming off of a [training] cycle in the beginning of the year. I ran a marathon in January, where I met another long, nine-year goal — I qualified for the Olympic Trials in the marathon.
"So, I didn't really want to do another hard road race, but I wanted to see if I could break my record here, because I don't know if I want to do it again. This may be the last time. The training was really hard."
Esquivel said he "was expecting" Gallagher to cross the finish line Saturday "about 10 minutes later" than she did.
"I saw the first guy [champion Peter Davidson], and then she was right behind him and I was like, 'Alright!' " Esquivel added.
The difference for Gallagher in Saturday's race, in addition to her fitness level, may have been that she decided not to put any extra pressure on herself to set a new women's record here. But what about her future in running?
"I'm in a little bit of a No-Man's Land, where I could maybe do an Ultra [run], I could maybe focus on short distance," Gallagher said. "I'm going to take a month off of structured training and just run for fun, and see where I'm at, at the beginning of June."
MEN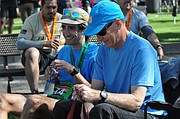 With two-time defending Whiskey Row Marathon champion Darren Burr forced to miss Saturday's race due to injury and defending runner-up Michael Versteeg absent, last year's third-place finisher, Peter Davidson of Tucson, won the 2018 marathon in 3 hours, 7 minutes and 37 seconds.
"It's such a brutal course — it feels so good to come out on top," said Davidson, instantly recognizable by his bright yellow-framed sunglasses. "I'm really impressed with [Gallagher]. She was so close behind me, and that's amazing. It's really cool."
In 2017, Davidson, 33, ran the Whiskey marathon for the first time, posting a 3:06:37, exactly 1 minute faster than his time this weekend. Three weeks ago, Davidson finished fourth in the Whiskey Basin 31K race in Prescott, his last major training run before Saturday's marathon.
"I typically train on trails down in Tucson, and I did a 50K back in January, did the Tucson Marathon in December," Davidson said. "From hiking and trail running, it's kind of progressing off of that."
Davidson's parents were on-hand to watch their son cross the finish line on the Courthouse Plaza a mere 1 minute and 18 seconds faster than Gallagher. Gary Krugger of Flagstaff nabbed a distant third in 3:19:16.
Peter's father, Frank, has run 37 marathons in his life, including the Whiskey Row Marathon in 1983. Peter said running must be in his genes.
He briefly ran cross-country and track as a young student in Casa Grande, and he completed short runs in college. Now, Peter plans to run the Boston Marathon in 2019.
After Peter and Frank completed a half-marathon-length hike in the Catalina Mountains in Tucson a couple years ago, Peter told his dad, "I guess I owe you a half marathon."
"He signed me up for the Whiskey Row half in 2016, and I've kind of been training since then," Peter said. "I'd like to eventually run a 50-miler one day, but I'm just working up to it."