Originally Published: May 9, 2018 6 a.m.
What happens in a public middle school public school where the 60-year-old rookie teacher faces a classroom with no budget, no books, no supplies? Local author Shirley Willis set her novel, "Naked Teaching: A Love Story," in the fictional town of Coyote Crossing, Arizona, and bases it on experiences from her own teaching career.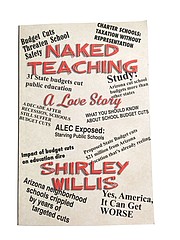 Willis will appear at the Peregrine Book Company, 219A N. Cortez in Prescott, at 2 p.m. Saturday, May 12, to read from her book and discuss the topic of what's happening in education.
"Watch how slashed budgets, apathy, volatile racial prejudice, outrageously profitable standardized tests that never measure anything important, and wagon loads of adolescent hormones fuel the minute-by-minute conflicts in the winner-takes-all education game," Willis states in her press release.
Using her 34 years in education in Wisconsin, Maine and Arizona with K-12 students with special needs in every disability category, Willis created stories of students facing incredible challenges.
She has been compared to a bull terrier when kids are marginalized with labels.
"I wrote it to celebrate the failures and triumphs necessary to the children of every age I've known. I wrote it to validate the sacrifices millions of teachers make every hour of every day," Willis writes in her author note at the front of the book. "This is the book I wish I'd read before I decided to be a teacher."
"Naked Teaching" is the first book in a trilogy. She said, as idealistic young teachers, none imagined how much of their meager salaries would go to support their classrooms. "In the era of stripped budgets and looted school funding, teaching with scavenged supplies and scarce equipment and support means Naked Teaching," she wrote on her website, shirleywillisnakedteaching.com.
"It means doing the very best you can with what you have while never forgetting that our kids deserve more, much more, than poverty level schools—particularly in the richest nation in the world."
Willis published her book through Pegasus Books, a small traditional press, in 2017. It is available through Amazon in paperback, on Kindle and at Barnes & Noble. Peregrine Book Company also carries the book.
The intended readers are those who care about education, children, and their future, Willis said.