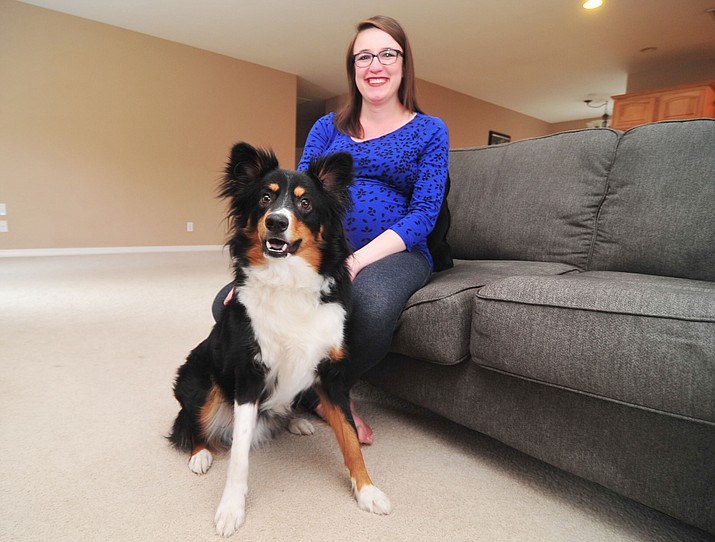 Originally Published: May 9, 2018 6:02 a.m.
Amelia Lundgren found herself in a quandry April 18. She was nine months pregnant, her Australian Shepherd was having a seizure, and she was alone in the house and unable to lift the dog.
Lundgren called the Prescott Valley Police Department Animal Control office frightened and in a panic.
"It's not a normal call for us," said James Risinger, Animal Control Supervisor. "Officer Evelyn Whitakker could have just advised the woman, and that would be OK. But she didn't. She provided excellent service."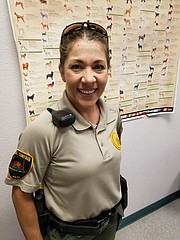 Risinger said what normally happens with a call such as this is for the animal control officer to advise that he or she is not a doctor, and for the caller to take the animal to the veterinarian. They can give the address of the closest vet, but it is the owner's responsibility to transport the animal, he said.
However, Animal Control Officer Whittaker drove to Lundgren's residence where she found the dog, Barney, on the floor, alert but unable to stand or walk. Whittaker calmed the woman and advised her that the dog needed to get to the animal hospital soon.
Lundgren's husband was out of town and due to her pregnancy and the size of the dog, she was unable to lift it and put it into her vehicle. Whittaker picked up the dog and transported it to Prescott Valley Pet Clinic where the owner met her.
"Not only did Whittaker help the sick dog, she played a key role in calming down the soon-to-be mother," Jerry Ferguson, PVPD public information officer, stated in the press release. "The following day, Whittaker followed up with the woman to find out the status of the dog."
Apparently, the doctor believes the seizure was due to a genetic defect in Australian Shepherds, Ferguson said.
"It was nice to have Evelyn there, being a mother herself, to provide a level of security and comfort," Risinger said.