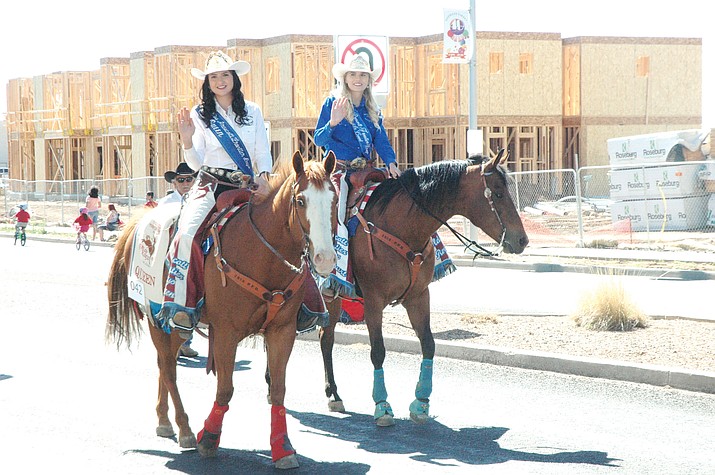 Originally Published: May 16, 2018 6 a.m.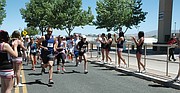 Nobody had to go over the rainbow to enjoy a parade, all it took was picking a spot on Florentine Road in Prescott Valley to enjoy the annual Prescott Valley Days Parade.
Held Saturday, May 12 and celebrating the town's 40th anniversary, the parade was themed after the "Wizard of Oz" and had about 75 entrants. Spectator Shar Jenniges said she comes every year to see the parade and this year's was fun.
"I appreciate the theming, Jenniges said, noting she enjoyed "seeing the different groups that are around."
Similarly, Lauren Mitchell also thought the parade was good. She brings her kids every year and they had a good time this year, Mitchell said. The best part was the dancing sheriff, she said.
This year, Mayor Harvey Skoog was grand marshal and Prescott Valley Town Council members dressed up as characters from "The Wizard of Oz." Also included in the parade were marching bands from various schools such as Bradshaw Mountain High School, Franklin Phonetic School and Chino Valley High School, the Granite Mountain Young Marines, the MOMS Club of Prescott, Prescott Rodeo Royalty and the Yavapai County Shriners.
Immediately following the parade this year was the inaugural Bear Dash 5k run, sponsored by the Humboldt Unified School District Foundation. As he prepared for the race, Chris Espinoza said he was taking part because he likes supporting schools and local events as well. Running is a hobby for him, so he was already prepared for the 5k, Espinoza said.
"I run here and there in my spare time," he said. "I'm already mentally prepared."
Joe Weightman, who came in first, said he thought it was cool that he'd be known as the first person to ever win the Bear Dash 5k. Along with Weightman, Izzy Nielsen came in as the first woman, Ariel Laird came in as the first elementary school girl, Jair Montoya came in as the first elementary school boy, Brandon Fischer came in as the first high school participant and Ellie Bennett came in as the first middle school participant.
In addition to the parade and Bear Dash 5k, other Saturday activities were the Wild Wing Eating Contest sponsored by Buffalo Wild Wings, the Ranch to Table Culinary event and the Matchstick Rush Fire Show. The carnival continues Sunday, May 13 from noon to 7 p.m.