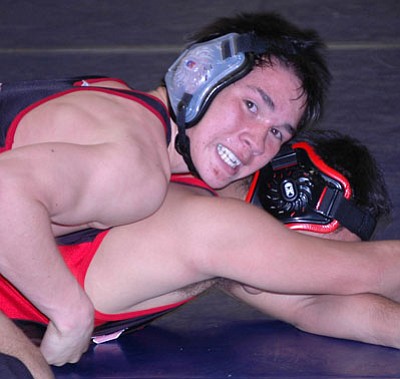 Originally Published: February 9, 2011 11:31 a.m.
A pair of Bradshaw Mountain wrestlers emerged from this past weekend's Sectional meet as State qualifiers. The State Meet once again takes place at Tim's Toyota Center in Prescott Valley this week.
Both of Bradshaw's qualifiers went 3-2 and placed fourth at Sectionals, and received their State bracket placement by draw, said BMHS coach Jon Vick.
"Only the top six are seeded," Vick said.
Zack Steck earned a No. 10 slot at 125 pounds. The sophomore has a 23-21 record and will compete in the first round Thursday in his first-ever State match against the No. 7 seed from Glendale High.
"Zack wrestled his best and achieved the highest place possible," Vick said of the Sectional bouts. "He is a dark horse to medal, because they are only giving medals for the top four at this State tournament."
No. 15-seeded Tomas Medevielle, a junior with a 48-8 record, will go up against the No. 2 seed from Marana. This is Medevielle's second appearance at State.
"I'm not too worried about it, I think he can beat this No. 2 seed," Vick said. "He will have to wrestle a technically flawless match, come out with fire and aggression and have the stamina to come out in overtime. I think Tomas can beat anybody in this tournament if he wrestles up to his potential."
Vick said Medevielle "ran into some tough customers, but made some careless mistakes" at Sectionals. At State, he has a good chance to redeem himself against the Cordova wrestler who beat him 7-5 for third place in the Sectional Meet.
Other Sectional results for the Bears were: Anthony Monroe, 103 pounds, 1-2; Arturo Virrey, 130, 0-2; Niko Long, 145, 0-2; Dominic Garduno, 152, 2-2; Kyle Jarpe, 171, 1-2.
All high school wrestling classes 1-5A, will compete Thursday through Saturday at the local venue.
"It's going to be a great time for wrestling fans," Vick said.