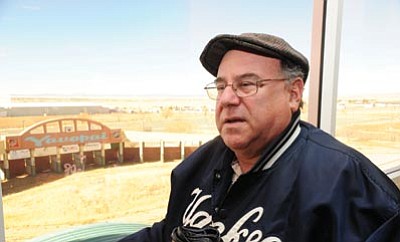 Originally Published: January 17, 2013 8:30 a.m.
Gary Miller submitted a voluminous application Tuesday to the Arizona Department of Racing for a Yavapai Downs horseracing license.
Miller has not made a final decision whether to purchase the track, but clearly wants to keep things moving so he can open the track in May if everything falls into place.
"Further decisions will be forthcoming," Miller said this week. A bankruptcy court is requiring a purchase decision by Jan. 30.
Miller's application to the Department of Racing requests 68 live racing days in 2013 and 68 more days of running the state's off-track betting (OTB) facilities.
Miller is president of the Arizona Horseman's Benevolent & Protective Association and has been involved in the horseracing industry for decades.
The Yavapai County Farm & Agriculture Association's board of directors abruptly decided to shutter the track in May 2011. The board said the track didn't have enough money to open, and by July 13 of 2011 it filed for Chapter 7 bankruptcy.
A federal bankruptcy judge has approved the sale of the track to Miller for $5.5 million. Miller now is analyzing the condition of the track facilities on the northeast edge of Prescott Valley during this "due diligence" time period. The U.S. Department of Agriculture held a $14.7 million loan on the facilities, mostly for its construction in 1999-2001, and now the federal agency plans to transfer $5.5 million of that loan to Miller if he agrees to buy the track.
Arizona Sen. Steve Pierce, Prescott Valley Town Manager Larry Tarkowski, PV Mayor Harvey Skoog, and several horsemen and breeders spoke at last week's Arizona Racing Commission meeting in support of expediting the Yavapai Downs permit application.
Pierce, a Prescott rancher whose horses have run at Yavapai Downs in the past, also wrote a letter to the commission strongly urging it to grant Miller more OTB days than the track has generally controlled in the past. That might mean taking away some OTB days from the Turf Paradise track in Phoenix.
"The lack of live horse racing at Yavapai is negatively impacting the number of horses available for racing at Turf Paradise," Pierce wrote. "Also, it is impacting the breeding, training and ownership of racing horses in our great state."
The Town of Prescott Valley hopes to see a speedy permit application review so racing has a chance to resume in May, Tarkowski said after the meeting.
"We received indications from the commission they were very interested," Tarkowski related. "It was a very favorable reception."
Reviving the track would help not only the racing industry but also the local economy, Tarkowski said. The Downs employed about 300 people each summer alongside hundreds of trainers, jockeys and assistants.