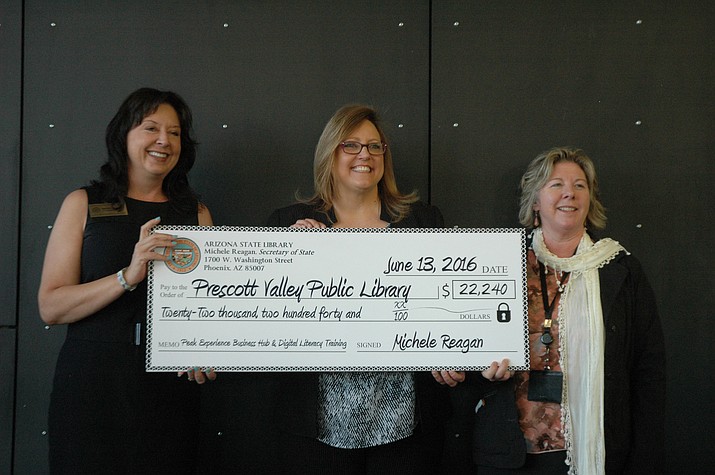 Photo by Jason Wheeler.
Originally Published: June 15, 2016 5:56 a.m.
Gone are the days when libraries were places where learning was done in silence, when a librarian would shush you with a dirty look if you so much as moved your eyes loudly.
These days, libraries have become community centers where innovation takes place along with excitement and the usage of learning tools not found at home or not afforded by schools, said Secretary of State Michele Reagan.
Reagan was at the Prescott Valley Public Library on Monday, June 13 to present the library with a ceremonial check totaling $22,240. It's an award for two grants from the Arizona State Library, Archives and Public Records through the Library Services and Technology Act administered by the Institute of Museum and Library Services for the Peak Experience Business Hub and the Digital Literacy Training programs.
The latter program revolves around digital literacy using the Oasis curriculum, said Adult Services Librarian Michele Hjorting.
"Our goal is to help the older population in our community with digital literacy skills, job help, applications, just bringing them up to speed with digital literacy,' Hjorting said.
The other program will help support local businesses and small business entrepreneurs, said Library Supervisor Casey Van Haren. The Prescott Valley Public Library as a strong partnership with the Yavapai Regioanl Economic Development Center and was also able to get a partnership with NAU/Yavapai College, she said.
Having the state library system under the Department of State and getting to travel around and see some of the things the libraries int eh state of Arizona are doing is a very rewarding aspect of being secretary of state, Reagan said.
"I was most impressed by these two projects and the recipient of these two particular grants, one because of digital literacy," Reagan said. "You talk about digital literacy for the older population, it is so needed because these youngsters are picking this stuff up right away and yet, some of us are kind of stuck going 'wow what is this, what are some of these tools.' It's so incredibly relevant to almost everything we're doing today."
Further, Reagan said she had never seen the Peak Experience Business Hub in the state before. To be able to have a place where new skills can be learned for business startups and to be able to do so in conjunction with the Small Business Administration is an honor, she said.
Email Jason Wheeler at jwheeler@prescottaz.com.