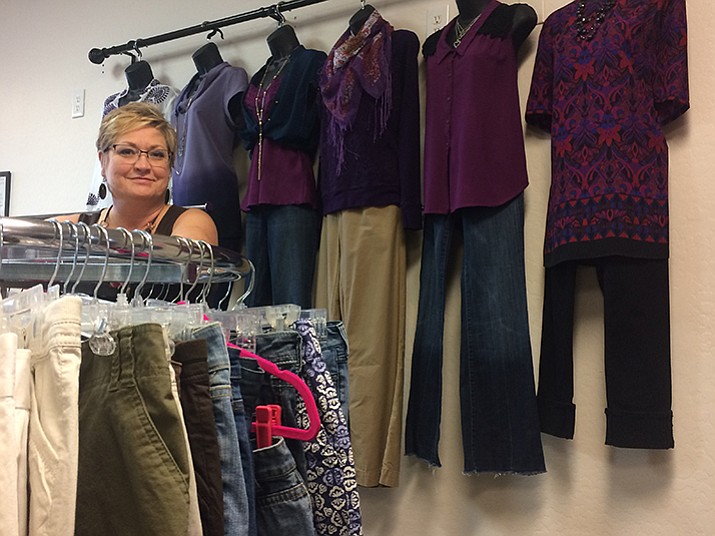 Originally Published: August 9, 2017 6 a.m.
After 10 years of business, owning SMARTgirls Resale Fashion, giving back to the community, founding Hope Still Floats, starting the Women in Business Roundtable and creating the Deserving Woman Award, Jamie Goeringer was awarded the 2017 Prescott Valley Chamber of Commerce Business Leader of the Year Award at the Chamber's annual banquet on Saturday, July 15.
Goeringer said she's still in shock over receiving the award, stating that everything she's done has been something she wanted to do and how it's all about that personal touch.
"In the times we live in, it's so technology-based, we've lost the personal touch. That's so important to me," she said. "I just get out there and connect and get the job done."

In the business of life, it's easy to forget about people's hearts, Goeringer said, noting how important that is to her. Further, being a business owner in a small community such as Prescott Valley means being out there and known, saying hello and having conversations when seeing customers outside of the store, she said. It makes them feel good and it'll be important to have that outlook on life forever because while sales come and go, that's what makes businesses succeed, Goeringer said.
Goeringer also praised her staff, calling them an amazing crew who all her customers love. Her staff are like her sisters, she said.
"It makes a difference with your customer base," Goeringer said. "You can't just be business in a small community. You have to have that relational touch."
At first, Goeringer said she wasn't even going to go to the Chamber banquet, having come back from South Dakota on July 11 and then going to Phoenix and coming back on July 14. However, her hairdresser called and said she'd nominated her for an award, she said. As such, she worked it out to be there, let God have it and not make it about her, Goeringer said.
Going forward, there are still some things she needs to learn, Goeringer said, commenting that as a boss, she has that relatability, but there are decisions to be made as a business owner encompassing that and it's not always easy — especially when staff are like her sisters. Her personality doesn't want to do that but sometimes you have to do things you don't like to do, she said.
Though she may not have a background as a clothes person, Goeringer said it's her experience in business as well as her faith that will move her to where she needs to be.
"I was never a clothes person … but God is moving me and growing me in the ways where I need to," she said. "I think it's a season of learning that wisdom as a business owner and decision making and having that confidence in making those decisions and having the right words to say when it's time to have a confrontation because I hate confrontation."