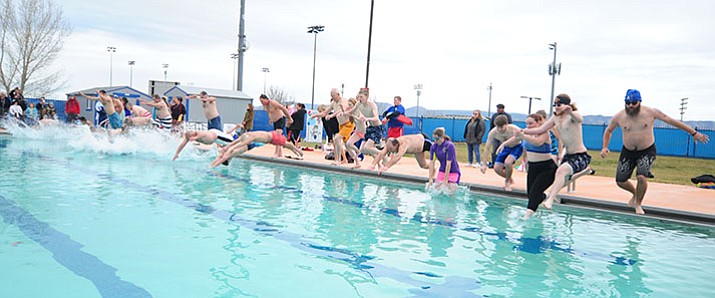 Photo by Les Stukenberg.
Originally Published: December 27, 2017 5:50 a.m.
The 13th annual Polar Bear Splash begins at 10 a.m. Saturday, Jan. 6, with a free pancake breakfast, thanks to IHOP, at the Mountain Valley Splash Aquatic Center. Representing the town's 40th birthday since incorporation, 40 or more bears will take the polar plunge. Anyone 18 and older who jumps into the outdoor Mountain Valley Splash swimming pool, has an opportunity to win one of the many prizes found in the polar waters. They will also receive a free oil change from Big-O Tires of Prescott Valley and a free meal from Chick-fil-A. The Polar Bear Splash continues with many games and contests such as ice cream eating, duck races, and the Ice Princess aka Hairy Man Pageant, all followed by the Polar Bear Plunge into the chilly water. Paramedics will be standing by. The Mountain Valley Splash Aquatic Center is located off of Nace Lane in Prescott Valley's Mountain Valley Park. Last year, 35 people participated.