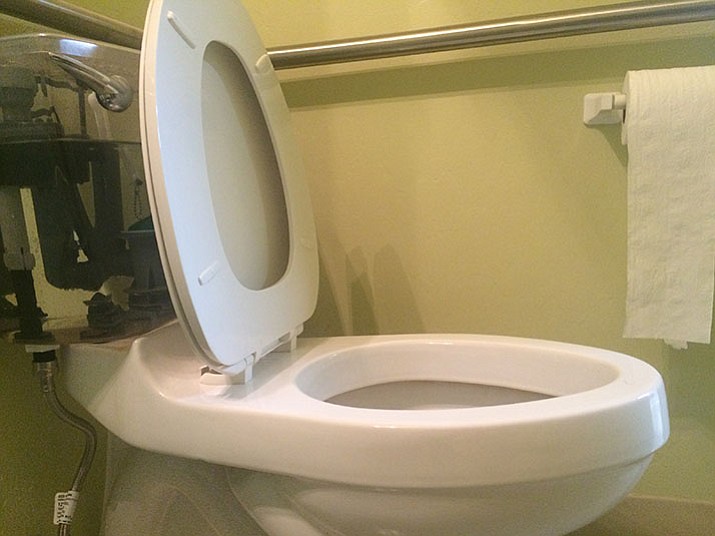 Photo by Jason Wheeler.
Originally Published: March 8, 2017 5:52 a.m.
Don't flush your money down the drain.
On average, people flush their toilets about 2,000 times per year, said Yavapai County Contractors Association Executive Director Sandy Griffis, noting that when testing a toilet's maximum performance, it's done in the number of grams of waste in a single flush. The minimum standard is about 350 grams, Griffis said.
As of about 15 years ago, all toilets had to be 1.6 gallons per flush or lower, said The Plumbing Store Office Manager Kim Gagnon. There are about 3,785.4 grams in one gallon.
"Anything above a 1.6 is an old toilet, but we see old toilets and unfortunately, they average three to five gallons per flush. If they don't work well, you flush it once, it doesn't go down, you flush it again," Gagnon said, mentioning that though the regulation is 1.6 gallons, The Plumbing Store is doing a lot of 1.28 gallon toilets. "As of five or six years ago, 1.28 is pretty standard."
There are also the dual flush toilets, Gagnon said. The first option for liquid waste is one gallon per flush and the second option for solid waste is about 1.5 or 1.6 gallons per flush, she said, stating there is a lot of savings to be had with the dual flush toilets.
Toilets are one of two biggest factors in a water bill, with the other being showers, Gagnon said, commenting that there are also water efficient shower heads. She brought up a recent job where The Plumbing Store went into Sacred Heart Roman Catholic Church and put in low flow faucets, waterless urinals and low flow toilets in their facilities.
Water efficient toilets don't cost more than regular toilets either, Gagnon said. The cost comes in the quality and manufacturer of the toilet she said.
Though there was some wariness about them in past years, the 1.28 gallon toilets work really well now, Gagnon said.
"As long as you're buying a quality toilet, that toilet's going to work great for you," she said.