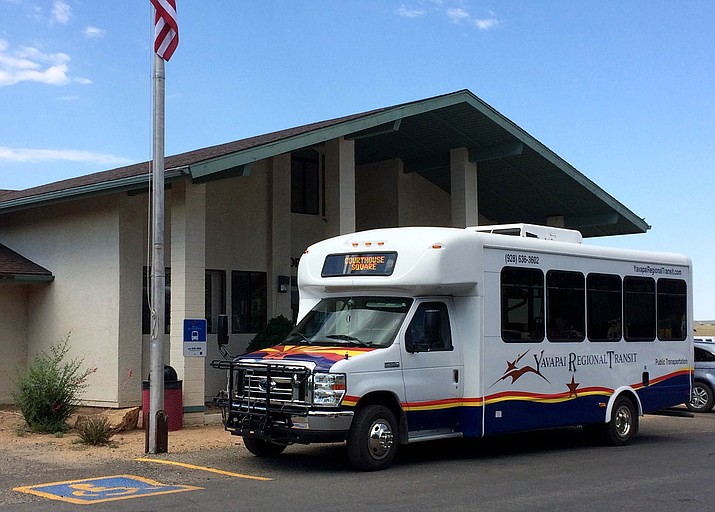 Originally Published: October 24, 2017 6:01 a.m.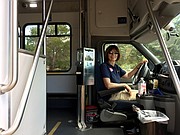 Fares
Single ride/one way: $2
Senior (60+)/Disabled: $1
Youth (8-17): $1
10-ride punch pass: $16
10-ride punch pass senior/disabled: $8.
Cash fares must be paid with exact cash amount. Tickets and punch cards are available for purchase on the bus.
If transferring to a different bus route, please get a transfer card from the driver.
Routes
The expanded Blue Route connects Prescott Valley with Prescott and Chino, with a Chino Valley destination necessitating a transfer.
The bus arrives in Prescott Valley from Chino for transport into Prescott at the following stops and times:
• PV Public Library at 10:13 a.m., 1:13 and 4:13 p.m.
• DES office 10 minutes later at 10:23 a.m., 1:23, 4:23 p.m.
• Hobby Lobby/Home Depot at 10:37 a.m., 1:37 and 4:37 p.m.
Passengers may disembark at six different stops in Prescott before the bus returns to the Chino Valley Safeway at noon, 3 and 4:52 p.m. The pick-up times from the CV Safeway stop to PV are 9:45 a.m., 12:45 and 3:45 p.m.
Prescott bus stops:
• Gateway Mall: 10:49 a.m., 1:49 and 4:49 p.m.
• Frontier Village Picture Show: Request stop.
• Frontier Village Target: 11:03 a.m., 2:03 and 5:03 p.m.
• Yavapai College Main Campus: 11:11 a.m., 2:11 and 5:11 p.m.
• Courthouse Plaza/Cortez at Gurley: 11:19 a.m., 2:19 and 5:19 p.m.
• Walmart, Gail Gardner: 11:33 a.m., 2:33 and 5:33 p.m.
YRT also makes request stops if riders notify dispatch at 928-636-3602 one business day in advance. The additional request stops include Fry's on Willow Creek, YRMC West and East Campus, Walmart on Prescott Lakes Parkway and in PV on Glassford Hill Road, PV Town Hall, PV Entertainment District, PV Viewpoint/Sungate Retirement Center
The Red Route moves in the opposite direction connecting Chino to Prescott and then on to Prescott Valley with the same stops.
Yavapai Regional Transit has increased its service to residents of Chino Valley, Prescott and Prescott Valley. Expanded service connecting the three municipalities on Fridays, five-day service within Chino Valley, plus expanded connections between Chino and Prescott all began earlier this month.
Bus service connecting Chino to Prescott, the Green Route, now runs Monday through Thursday, an addition of two days a week, said Sandy Stutey, YRT transit manager. Four trips each day start at 8:10 a.m. at the Safeway in Chino, and end with Trip 4 at the same place at 5:29 p.m., with about two-and-a-half hours in between each run.
Chino Valley residents can now maneuver around town five days a week on the Gold Route.
They also can access Prescott and Prescott Valley on an expanded schedule morning, midday and afternoon on Fridays only on the Red Route. From Chino, the bus makes six stops in Prescott, including the courthouse plaza, the Picture Show in Frontier Village (as a Request Stop where riders notify dispatch one business day ahead), Yavapai College, and Gateway Mall.
The Blue Route makes the same stops, but in the opposite direction, from Chino to PV to Prescott and back to Chino.
"We hope to add an additional day during the week in the next three to six months," Stutey said.
The Prescott Valley to Prescott run on Fridays has been in effect for about two years, but transit personnel noticed an increase recently in ridership from the courthouse in downtown Prescott to the Department of Economic Security in Prescott Valley.
"The good news about Prescott Valley is we've been working with people at the Coalition for Compassion and Justice to educate their clients about bus service as part of the collective impact process that's going on," she said. "We noticed the increase, but didn't know what that was about."
The DES office is working with clients who ride the bus to set appointments on Fridays, and Stutey said she is working with others to educate their clients on ridership and bus schedules.
"I just want to remind people that we are a deviated six route service. If someone has difficulty getting to a bus stop, give us a call. We have the ability to go off route to pick up from short distances if a person has difficulty getting to the bus stop, like a bad knee or stamina issues," she said.
Recently YRT was one of two Arizona recipients a Community Challenge grant from AARP. More than 1,200 entities applied for 71 grants issued in the country. YRT used the $5,000 to install a permanent bus shelter at the Chino Meadows stop.
"The intention of the grant is to increase safety and accessibility for seniors around the U.S. It's not huge, but it makes a difference for people," Stutey said.
For more information, visit yavapairegionaltransit.com or call Dispatch at 928-636-3602 or Administration (8 a.m. to noon) at 928-458-5885.