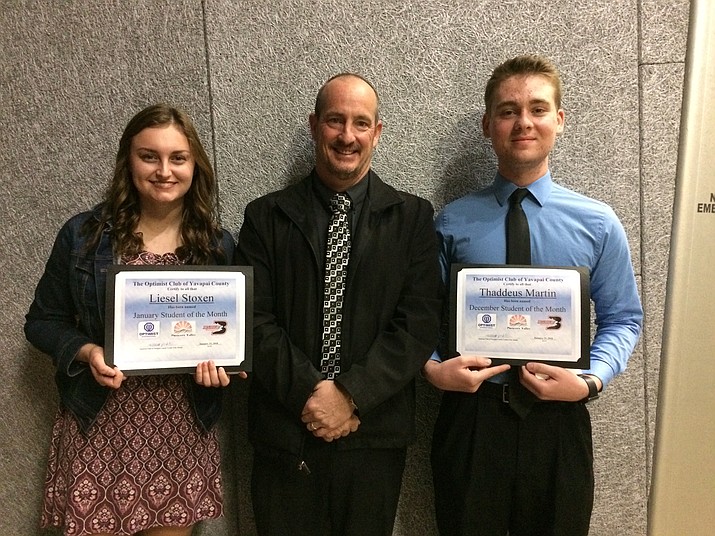 Originally Published: January 31, 2018 6 a.m.
Principal Kort Miner reminded the two Bradshaw Mountain High School students who actually chose them as December and January students of the month.
"It was your teachers. Staff recognized you for your accomplishments," Miner said, after the presentation of Thaddeus Martin (December) and Liesel Stoxen (January) before the Prescott Valley Town Council on Jan. 25.
Martin, Bradshaw senior, already takes college level courses — a math class at Embry-Riddle Aeronautical University, and dual enrollment classes through Yavapai College, and has earned 19 college credit hours. It comes as no surprise that he is president of the school's National Honor Society this year.
He also serves as vice president of the Interact Club (the Rotary International Youth Service club) and secretary of Mu Alpha Theta (math honor society).
His memberships in other organizations include the German Honor Society and Link Crew. He volunteers with the Boys and Girls Club, participated in breast cancer and polio fundraisers, and interns with the Yavapai County GOP.
Martin's 4.739 weighted grade point average has earned him a number-one ranking in his high school class of 339 students. He plans to study applied mathematics at Arizona State University in the fall.
Liesel Stoxen's list of accomplishments is lengthy as well. The January Student of the Month has been a member of the Bradshaw Swim Team for four years, serving as captain this year. She holds the school record, with three other members, in the 400-yard freestyle relay achieved in 2015. While training and competing as an athlete, she maintained a high grade point average and was presented with the BMHS Scholar Athlete Award for four years.
Stoxen has been a member of the National Honor Society since 2015 in which she is required to complete 30 hours of community service work. She belongs to the Mu Alpha Theta honor math society where she is the club's historian. She won the Advanced Placement Award in 2017 for passing three or more AP tests.
Since 2014, Stoxen has participated in HOSA (Health Occupations Students of America) achieving a fourth-place win in CPR/First Aid at the Arizona State Leadership Conference. She currently serves as vice president in the Sports Medicine Chapter.
Stoxen was inducted into the International Thespian Society in May 2016, is secretary of the school's Drama Troupe, and earned two scholar awards for her high grade point average. She is a peer guide for incoming school freshmen as a member of Bradshaw's Link Crew.
With her weighted GPA of 4.477, Stoxen ranks 12th in a class of 339 students. After graduation she will study Therapeutic Recreation at Arizona State University.