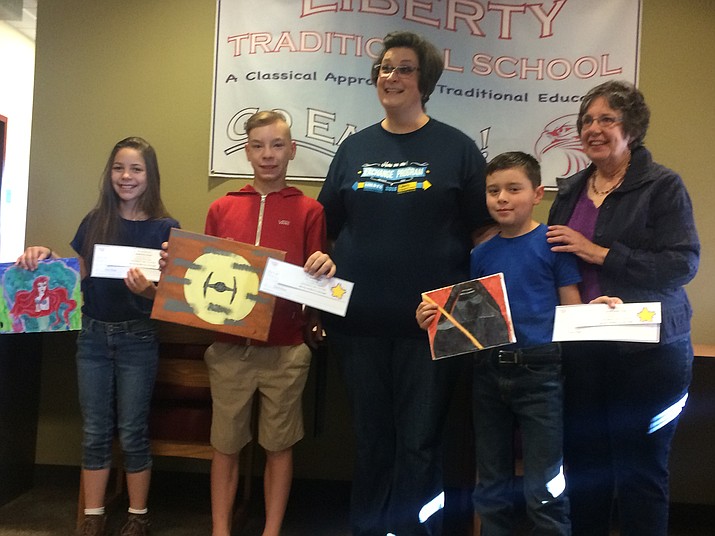 Originally Published: May 23, 2018 5:55 a.m.
Three students from Liberty Traditional School were the only Arizona winners in the Fraternal Order of Eagles' 2018 Children's Art Contest.
It was the first year that students from Liberty Traditional School participated in the national contest, according to Fraternal Order of Eagles Auxiliary member Vickie Scott. Out of 11 students who participated, Avery Portugal won third place for fourth grade, Marlena Craig won first for fifth grade, and Jaxson Rice took third place for sixth grade.
Rice, who created a picture of a TIE Fighter from "Star Wars" in the sky, said he chose the subject after thinking through a lot of different ideas.
"I like a lot of different things. 'Star Wars' is probably one of my favorite movies," he said. "I really like the TIE Fighters because they sound really cool."
Portugal also chose a "Star Wars" related subject, choosing to draw Kylo Ren from the recent trilogy. He's watched every film in the series, he said.
Though Craig's piece was not "Star Wars" related, it still had something to do with Disney. She chose Ariel from "The Little Mermaid" after being inspired from a picture she had seen of the Disney princess.
"I thought it would be really cool to draw one of her," Craig said.
This was the third year Scott had brought the Fraternal Order of Eagles Children's Art Contest to Humboldt Unified School District schools. Open to third through sixth graders, the contest provides an outlet to showcase creative skills. National winners also receive cash awards. The organization itself is a nonprofit founded in 1898 that unites fraternally in the spirit of liberty, truth, justice and equality in order to make human life more desirable.
It's really exciting to see the students not only participate, but win, Scott said, noting she was proud of all three students.
"Art will carry you through your life," she said. "It helps with everything that you do."