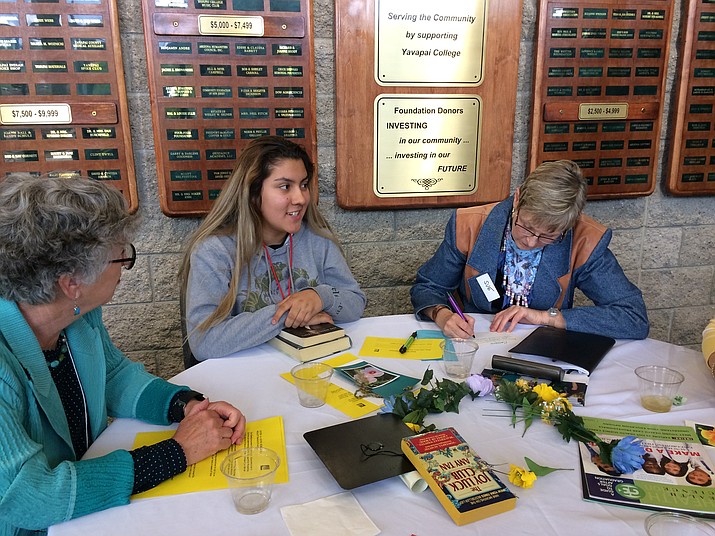 Originally Published: May 23, 2018 5:53 a.m.
Chief Deborah Black of the Prescott Police Department told a group of young women she never aspired to be a leader. "Yet here I am, and it's a wonderful position do be in," Black told 18 high school students May 1 at the American Association of University Women's (AAUW) Sister to Sister Luncheon at Yavapai College.
This annual event connects students from rural school districts with AAUW women where both have a chance to share their experiences growing up and their dreams of higher education. This year included students from Chino Valley, Mayer and Camp Verde High schools.
Black, the keynote speaker, said that as a young girl, she could never have imagined standing here in Prescott as the city's police chief. Her parents and relatives were involved in education and she was encouraged to become a teacher. An average high school student, she happened onto a class in criminal justice for her sociology degree, and that "lit me on fire," she said.
Black earned an associate's degree in Justice Studies at age 21 and applied to 14 law enforcement agencies. "Not one called me back for a second interview," she said.
She moved to Arizona and was accepted at both Phoenix and Glendale Police departments. She chose Phoenix PD.
"I was told, 'If you're looking for a husband, there's an easier way,'" she said, telling about her experience as a woman in a traditionally male job.
She learned how to diffuse volatile situations, and was very good at it, she said. There were times when she would calm down a suspect, only to have a fellow officer arrive and rile the suspect up, just to see her have to physically engage with the suspect.
"I could talk about #MeToo and #TimesUp, but they don't define me as who I am," she said.
Students and adults listened attentively as Black explained the uneven playing field girls and women face, even as youngsters. Boys describe themselves with words like "talented," "smart," "good at math." Girls call themselves "nice."
Things have changed since 1980 when Black began her career. Today, one in five officers with the Prescott Police Department is a woman. She said it makes her crazy to hear potential female officers say "I'm not smart enough. I'm not brave enough."
She encouraged those interested to join the Teen Academy this summer. "It's a noble profession, an exciting job, a very meaningful career. I can't believe I get paid to do this," she said.
Over lunch, students and the 28 AAUW members wrote out wished-for and completed careers. At least two girls added "law enforcement" or "police" to their list. Haley Hamen, eighth-grader at Heritage Middle School, added police officer to chef and singer on her list.
Others appear to have mapped out their next step in education. CVHS senior Glorielis Soto will graduate with her high school diploma as well as an AA degree from Yavapai College. She will study marketing and advertising at Grand Canyon College in the fall. Yolanda Aguirre, Camp Verde High School, wants to join the Army and go into the medical field as a doctor.
Three college students on a panel also spoke to the girls: Kimberly Hartley, studying engineering; Jacqueline Sanchez, aviation; Aileen Casillas, fire science.